Agriculture
There was relative prosperity in farming until the 1914-18 Great War deprived the glen of its men and horses. Arrears of work and repairs piled up.
The Small Landholders Act meant that smallholdings were released on the large estates for settling people back on the land after the war. Ex-soldiers were given tenancies of smallholdings and loans to get started. Craigencoon was the only one of these in Tynron.
In the inter-war years the pattern of modern farming was set, with booms as ever followed by slumps, guaranteed prices, subsidies, bankruptcies and a flood of imported food. The advent of more machinery, like combines and tractors, threw men off the land. Many farms are run now by one or two men, where there would have been a dozen earlier in the century.
Some farms were finally abandoned during the war or just after – Cormilligan, High Pinzarie and Hillhead. Upper Cairneycroft died in 1951 when Jimmy Kerr left. It is now a sizeable ruin and shows how quickly houses can deteriorate when abandoned. It seems to have been roofed with large sandstone slabs, which now lie dejectedly in front of the house.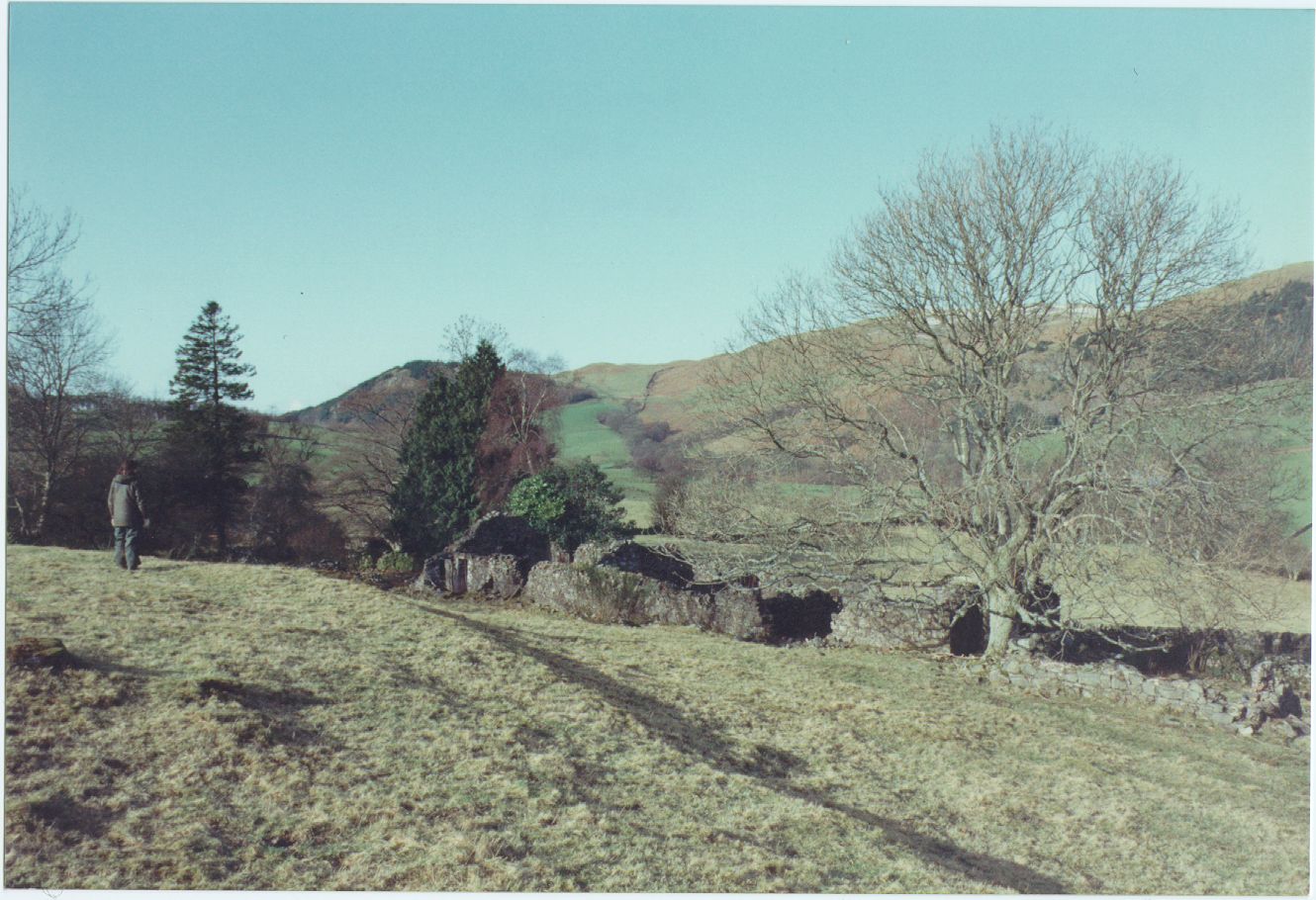 Upper Cairneycroft in ruins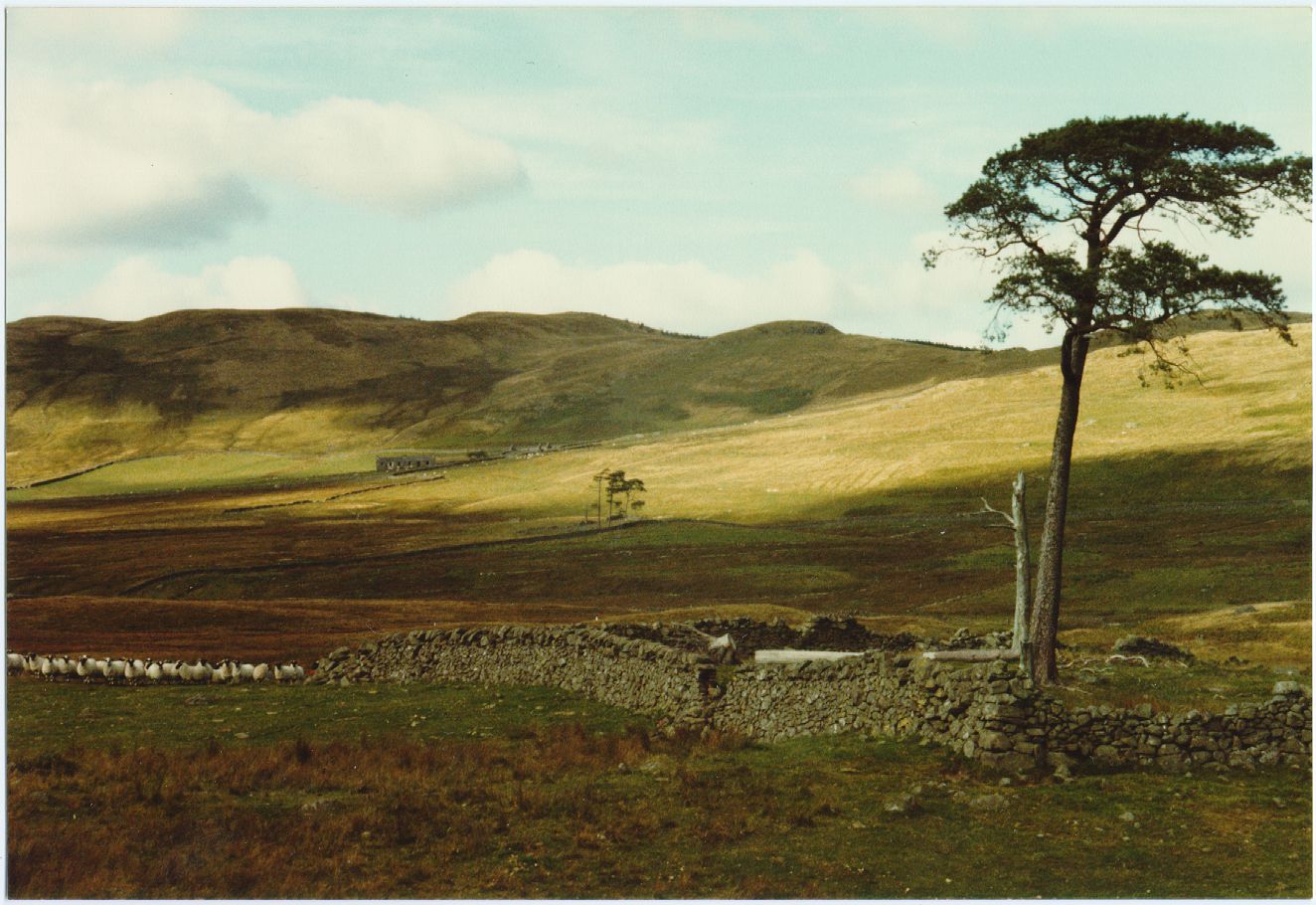 Cormilligan's setting
Cormilligan
I can do no better than reproduce this captivating article by Nell Steel née Armstrong of 24th February 1984, reproduced by kind permission of the "Dumfries Standard":
A day to remember
On Sunday, August 21, 1983, a party of 20 left The Farmer's Arms in Thornhill, destination Cormilligan, led by the organisers, Robert and Ena Dobie, with Mr. and Mrs. Wm. Mitchell, followed by: – Mr. James Maxwell and son John, Mr. John Lorimer, Mr. Ian Kirkpatrick, Walter and Margaret Armstrong, Jenny Armstrong and husband Tom Murray, James and Barbara Armstrong and daughter Helen, Jean Armstrong and husband Hugh Steel with daughter Moira, Allen Armstrong and Nell Armstrong. Owing to other commitments, two of the Armstrong family, Sarah and Robert, could not be present. The party met at Kirkconnel Farm, where Mr. Maxwell had arranged for us to be taken over the hills by landrovers…..
The drive up over Kirkconnel hills was magnificent, past the long wood with trees growing peacefully, the wood where, as a child, I heard the cuckoo call for the first time, a few stately rowan trees, which stood out from the others, laden with red berries, no vandals to hack them down. Round the silvery loch, which the Maxwell Farming Company have created to add to the beauty of the hills, past Connell's Well, where I believe archaeologists are doing a study. It was there we kept a coconut shell to drink the cold clear water from the well on our way home from school.
The excitement of seeing Cormilligan in the distance was just as great that day as it was 50 years ago. We arrived there at 1.30 p.m. in glorious sunshine, a perfect day to have a picnic in the stackyard, with enough to feed 20 men for a day's sheep clipping. The water was boiled for tea on a gas ring. What we would have given for that gas ring all those years ago.
While we talked of days long gone, a bewildered kestrel hovered above us, gazing pensively on the glorious sicht below. One can never forget the rousing sound of the skylark, peesweip and whaup (lapwing and curlew), which we were a few months late to hear.
We were honoured by a member of the Thornhill Pipe Band, Mr. Ian Kirkpatrick from Moniaive, who played for us during the afternoon.
A visit to the well, through the gate at the bottom of the meadow, where all the water was carried until 1928, when a supply was led to the house. A few stones and rushes removed revealed the water running crystal clear, as ever, I'm sure would enhance any dram. I could imagine hearing faither Jimmy Armstrong's strong voice calling, "Mind and sneck the gate".
We took a look through the house and wrote our names on the guid room wall.
Allen, the youngest of the family, was born at Cormilligan in 1932. It was a sad day for us all when he left at six weeks old when mother died, but fortunate that he was to make his home with uncle Sam Armstrong, who was in the Glasgow Police Force. Allen also joined the police force and retired the day we visited Cormilligan after thirty years service. In his own words, "Where else could I have spent such a happy day?"
I was pleased to see the signature of a great-great-granddaughter of William McCaw, who in 1864 wrote "Truth Frae Mang The Heather" or "Is The Bible True?". (This is available in the Ewart). He was shepherd at Cormilligan at the time. There is a picture in the book of William McCaw and his "mountain home". The house looks just as it was then.
Brother-in-law, Hugh Steel, dug up a bottle from the ash pit and, as I have recently taken this up as a hobby, it will have a special place in my collection.
I didn't hear anyone ask what time it was and could hardly believe it was 5.30 p.m. when we decided to leave the beautiful hills, taking a different route, along the bottom hill, passing "Bloody Claverhouse's Well", following the Cormilligan burn where we spent many happy hours. Robert Dobie and his mother, Lizzie Armstrong, came to stay quite a lot. She was a keen fisher and brought many a good fry of trout from the burn…..
We left the bottom hill and joined Kirkconnel burn. We were pleased to have John Lorimer as his father came to Cormilligan on many occasions. We arrived at Kirkconnel, which brought back more memories of happy times with the Wilson family. Jimmy Wilson was the shepherd there in our time. It was there we left the Land Rovers and joined the cars to take us on the last stage of our journey, down past Strathmilligan to call on Jim Glencorse, not a day older looking, his garden spick and span, just as he always kept the farm at Strathmilligan.
We had reached the Shinnel road, which winds through its majestic trees and down through the now silent Tynron village, with Tynron Doon on the left, leaving behind us a beautiful glen, which is steeped in history. We travelled on, passing by the Scaur road end, the glen where our father, James Armstrong, was born at the Shiel and was shepherd at Chanlockfoot. Through Penpont, which holds many memories, where our grandmother lived until she was 84, after the death of grandfather, William Armstrong, at Polgowan age 54…..
It is said that "New Lairds Hae New Laws". The Maxwell family have been farming Cormilligan and Kirkconnel since 1937. We are glad there hasn't been a New Laird since our childhood days. A new Law could easily have prevented us from making this trip.
It was 1938 I set off walking to Lann Hall to begin my first job after leaving school and had just reached the Shinnel road when a vehicle pulled up, driven by Mr. McKill Maxwell, who was returning from a sheep handling at Cormilligan. I was glad of the lift to Tynron Bridge, as I felt very homesick. His parting words to me were, "You'll get on fine". I thanked him and hoped he wouldn't see the tears that were already beginning to flow. I never guessed that over 40 years later his son and grandson would drive us back up the same road to renew some treasured memories…..
James Armstrong was still in Cormilligan in 1943/4 and a shepherd still stayed there till 1948. Cormilligan was a sizeable four room longhouse with considerable outbuildings considering its remoteness, at 315 metres the highest in Tynron. An inscription on the asbestos in the ruins records:
Robert Andrew Armstrong born here in this room 5 2 30, died July 92 ashes scattered round this house where he played as a laddie – RIP
Apparently this a mistake, the aforementioned Robbie Dobie says it should read "Alan Armstrong".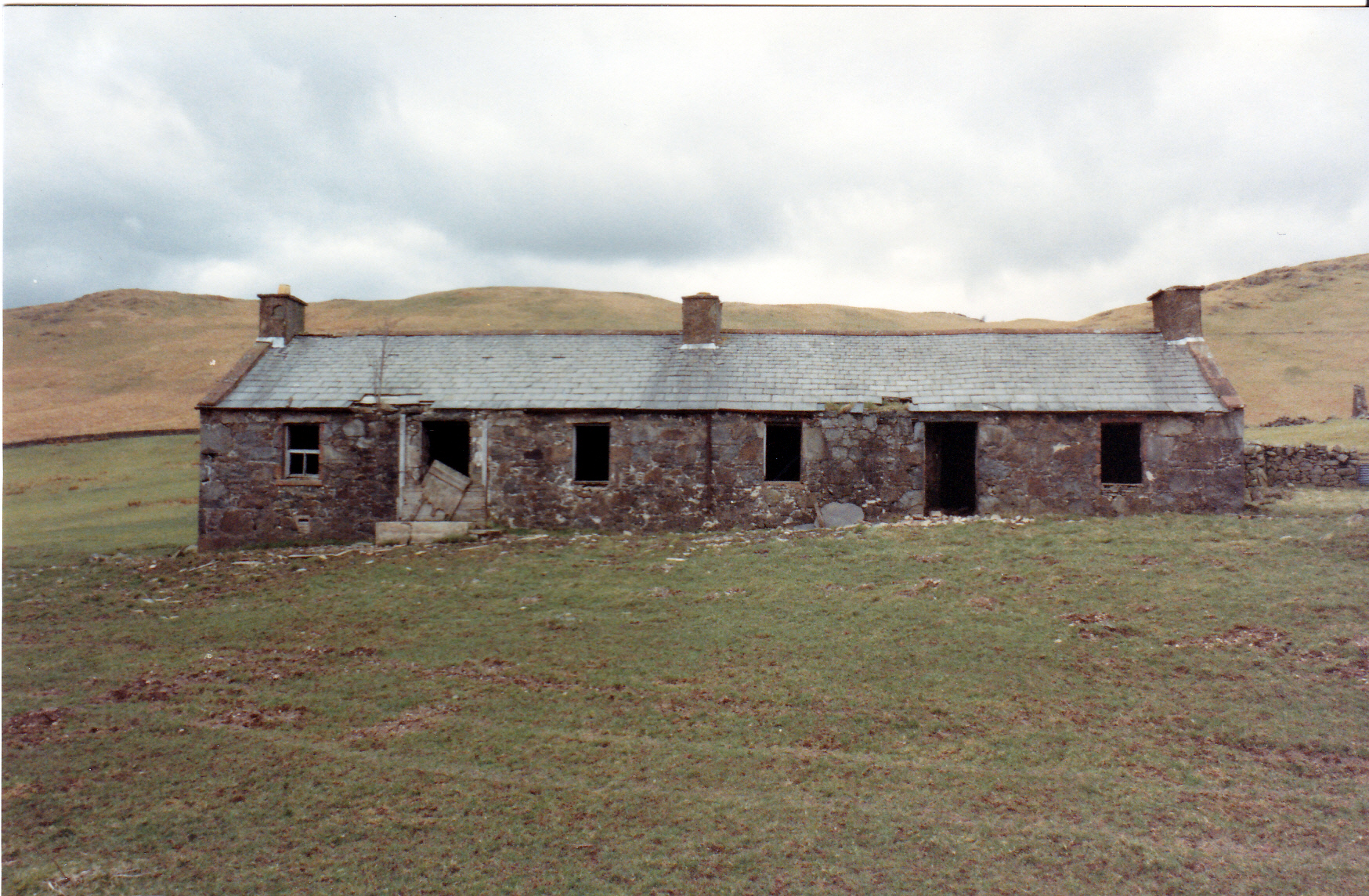 Cormilligan
There must be a lot of memories tied up in Tynron's lost steadings. I get a funny feeling standing at a place like High Appin, now stranded in the forestry, and reflecting on the families that had lived there and all the work which had been done.
The 3rd Statistical Account 1955
| | | |
| --- | --- | --- |
| oats | 92 hectares | 84 hectares |
| barley | 0.4 hectares | nil? |
| potatoes | 12.5 hectares | 1 hectare? |
| turnips | 36 hectares | 30 hectares |
| cabbage | 0.4 hectares | nil? |
| improved grassland | 263 hectares | 1,055 hectares |
| rough grazing | 5,947 hectares | 5,168 hectares |
| sheep | 14,788 | 17,365 |
| dairy cows | 176 | 777 |
| other cattle | 317 | 358 |
| pigs | 130 | 146 |
| horses | 62 | 22 |
| poultry | ? | 3,945 |
The two years are not always exactly comparable, but give a good overall picture of changes in a century. The numbers of sheep and, especially, dairy cattle had increased, the result of better breeds, much improved pasture, buying-in of winter feed and subsidies for hill farmers.
Cattle
EC milk policy put an end to dairying in Tynron. In the 1980s, because of dairy quotas, dairy cattle suddenly became a rare sight, conclusive proof of the effects of politics on grassroot farming. The house cows at Auchenbrack are the remnant of days gone by.
Cattle are now kept for calves. There are now many different breeds, including Continental cattle like Charolais, Simmental and Limousin, but the stars are the small group of Highland cattle at Macqueston. Willie Scott at Dalmakerran turned to Blonde d'Aquitaine to replace the more traditional Hereford. Bennan has Limousin and Angus cross Friesians with Limousin and Charolais bulls.
Most cattle are overwintered outside. The field they stand in then becomes completely churned up. This is called "poaching" and, although the field is well-manured, it is often a morass to cross as the soil is compressed and water sits on the surface.
1990 brought the scourge of BSE, a disease affecting cattle and which could supposedly be passed on to humans. 1996 has brought the BSE scare mark 2, but this time it's serious. This crisis could bring another revolution in Tynron's farms. It has meant a fall in beef prices and a most uncertain future for calf-raising in the glen. Most farms survive on an enormous bank overdraft anyway. Farms that have recently built expensive inside quarters for cattle must be regretting it. We could see the disappearance of most cattle from the glen. A side-effect of the mad cow disease was that Dundas Chemicals no longer found it worth their while to collect carcases, so that farms have had to bury their own, with resulting increased public health hazard.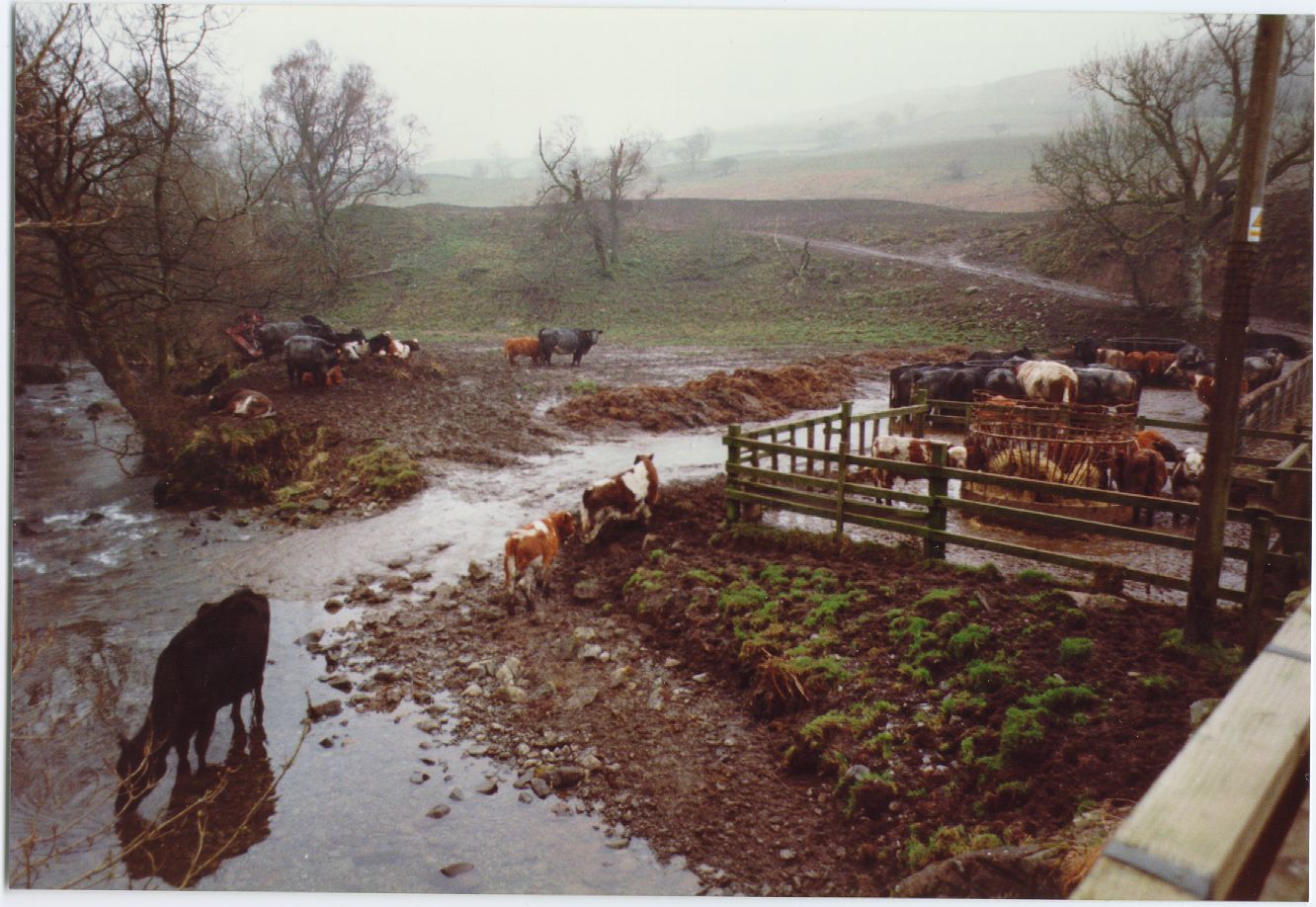 Cattle poaching at Kilnmark
Sheep
Sheep farming is still the dominant activity in the glen, as it has been for centuries. The typical sheep of the 1990s are Blackface ewes carrying lambs which are Blueface Leicester crosses. Recent times have brought new breeds. Bennan has Scotch Mule ewes crossed with Texel or Suffolk tups.
There is so much dependence on subsidies for hill sheep now, that it is an interesting thought as to what would happen if subsidies were removed. There is much talk of reducing or even removing subsidies for hill sheep. No longer does the Tynron farmer have his own prosperity in his own hands. He depends on the latest move by European Union farming interests.
Pigs
Nobody keeps pigs any more. There is an old brick piggery up the hill behind Dalmakerran.
Hens
A few folk have some poultry, but the large battery hen enterprise at Lann Hall, opened in 1966, closed in 1990. This business did employ one or two people and it was good to go along to see if there were any cracked eggs going cheap (cheep?). On the other hand nobody seeing how the hens lived could have wished it to continue. The Hen Hoose now has taken over the building by Lann Hall lodge, but the battery shed is used as a store in 1996.
Horses
Most horses on the land had gone by the fifties. However, horses are a common and pleasing sight once again in Tynron from Clonrae to Shinnelhead, as some folk have riding as a hobby. The horses at Strathmilligan are for pulling carriages not ploughs and it is terrific to see the Cowderys driving carriages along the glen road. A new carriage-driving centre opened at Dalmakerran in 1994 has brought more of our friends with a leg at each corner.
Sheep Milking
In the mid 1980s the Malpas family at Kirkland were milking sheep for their yogurt-making enterprise, but unfortunately it was not a success. Wonderful thick creamy sheep's-milk yogurt was made in several flavours as well as plain and was delivered to Glasgow and Edinburgh. Strange-looking sheep were to be seen and there was a sheep-milking parlour at Kirkland.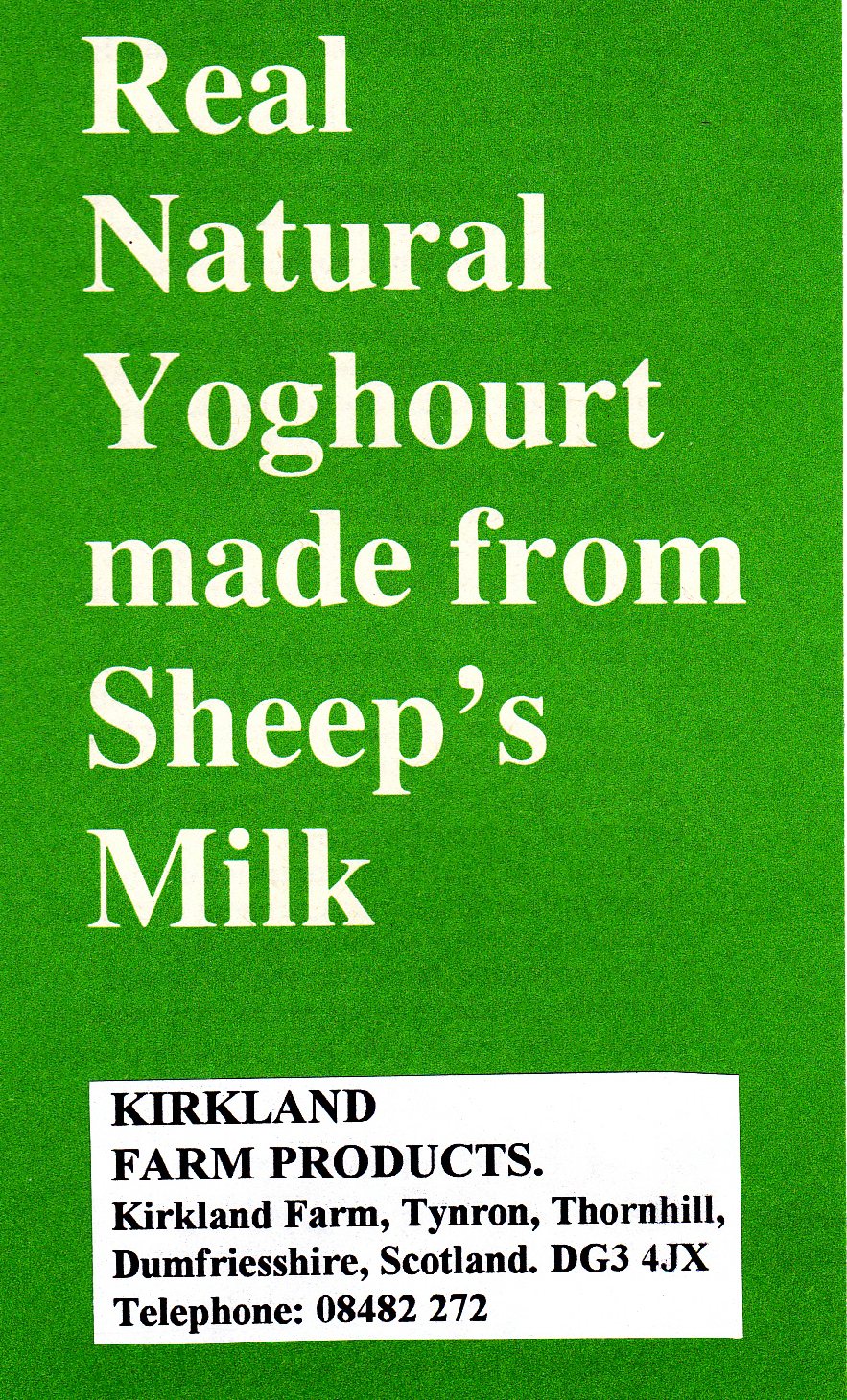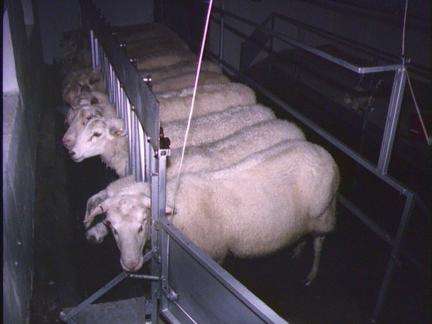 Milking sheep at Kirkland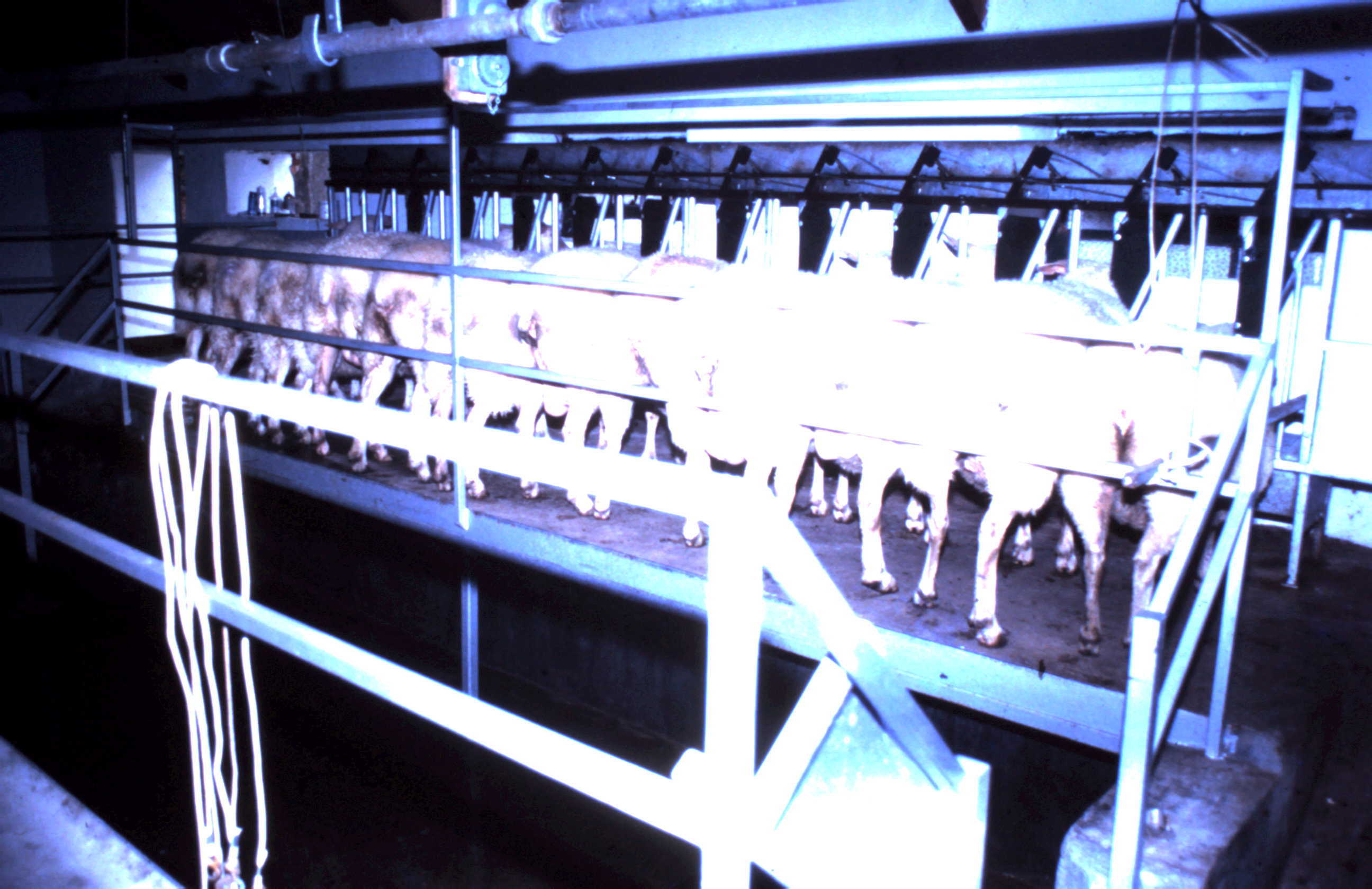 Silver Fox
Does anyone remember the Invicta Silver Fox Ranch at Milnton in 1934 or another at Macqueston in 1937? They were both short-lived, as the war finished them. At least none escaped to give us a feral population.
Buccleuch and Queensberry
The Queensberry estate, centred on Drumlanrig, is 44,500 hectares, the biggest single block of privately-owned land in Scotland. The southern tip of this Queensberry land consists of the tenancies of Clonrae and Auchengibbert, which are the remnants of the former much larger holding in Shinnel Glen.
Crops
More has changed since the 1955 statistics. There are a few turnips for folding sheep, a few potatoes for farm use, but otherwise it is no longer worth growing any crops at all. Oats have gone since the 1950s. A little barley has been grown since then, the last few fields of barley in Tynron being seen in the early 1980s. It is simpler to bring in feed than it is to grow your own.
Most of the remaining ploughing is just for reseeding of pastureland. In the early 1980s Bennan reseeded 80 acres of shallow peat, mostly ignored by stock. The top five centimetres were cultivated, lime and phosphate were added and grasses and clover sown. This greatly increased the stocking rate.
The 1980s has seen a large-scale change from haymaking to silage, with the advent of big-balers hired in. This has been a mini-revolution in fact, each farm having stocks of big-bale silage in black polythene bags forming attractive clumps by the roadside or a large silage clamp covered with old car tyres. Auchenbrack still insists on making some hay, but this has quickly become unusual. Straw is imported from outside and a common sight in late summer is the arrival of enormous straw wagons up the narrow glen roads. Much of this too is big-bale.
Breakup of Estates
The 1980s and 1990s have seen the breakup of several of Tynron's smaller estates, which have existed as separate entities for many centuries. The sale of Stenhouse and dispersal of its land was followed by Lann Hall, Kirkland then Dalmakerran. Much of this land is now in Bennan. The houses have been sold more or less separately and disconnected with their traditional land. Lann Hall land is now divided between several owners. Small estates are evidently no longer viable, especially in an age when the farmer spends most of his time filling in forms. This is a quiet revolution.
Diversification
The present scenery of Tynron Glen with its preponderance of rough grazing is a landscape most people would consider attractive. So would I. However, in an age where there is over-production of food in this country perhaps the number of sheep can be reduced, particularly if the farmer is making a loss on each ewe. In 1995 the EU were offering £25 per ewe not to keep sheep in upland areas.
The problem is how can farmers make a living round here if they do not keep large numbers of sheep?
Some diversification would be welcome. From an ecological and personal point of view I would like to see much more deciduous woodland of native species (and Scots pine of course), perhaps in the Scandinavian way of small patches, providing shelter for farm animals. This would improve the scenery, protect the soil and provide cover for wildlife. Unfortunately it is a brave and far-sighted farmer who would think about trees being cropped in a hundred years time.
Land has been sold off for forestry and there is some potential in shooting rights, holiday cottages (heaven forfend!) and bed and breakfast. No-one really wants to see caravans and campsites in the glen and it is hard to picture deer, ostriches or alpacas. The Government's recent encouragement of land being "set-aside" is also interesting and I wonder if any farmer has taken this up.
The latest craze is to try and get a wind farm on your land. This brings in enormous rents for the farmer for very little effort. The tops of Shinnel Glen have been earmarked as potential sites and by gum there is certainly no shortage of wind. In late 1996 there has been a storm of protests against wind farms, complaining of visual and noise pollution, especially close to settlements, and pointing out the limited amount of power produced by even the thirty-odd 60 metre high windmills recently erected on Windy Standard very close by. Others have rushed to the defence of windmills, as a wind farm would provide three jobs locally and it produces pollution-free power. It seems to me that, while nobody would want thirty windmills on Tynron Doon, a few stuck up on Colt Hill would hardly be noticed. I think they would merge in with the scenery just as lines of pylons do already, but I would not like to see more than a handful in the whole of south-west Scotland.