There was a threat of a French invasion in 1803 and perhaps some Tynronians volunteered. However, the war years at the beginning of the nineteenth century boosted agriculture enormously and sent production, prices and wages up rapidly. Much waste land was broken up. But there was a shortage of food locally, as the army came first. Consequently in 1814, with Napoleon's defeat, prices collapsed! Land was taken out of production.
1810 was a significant year in that Buccleuch acquired the Queensberry inheritance and two-thirds of the parish became Buccleuch land at a stroke. Buccleuch was a more enlightened landlord and wished to attract good tenants (and high rents) and so, like other landlords, built new steadings and two-storied stone farmhouses with a good number of rooms. Buccleuch actually provided the stone, lime, wood and slates and a plan, then the tenants constructed the building themselves. The bigger steadings were designed in the form of a square with buildings on three or four sides, eg Ford and Auchenbrack. These steadings had byres, threshing mills, a granary, stables and cottages for farm workers. Even shepherds had good stone houses built. Rev Wilson says steadings were erected mostly 1825-35.
Ayrshires replaced Galloways as breeding improved and Blackface sheep were still preferred to Cheviots. Clydesdale horses now totally replaced oxen.
The annual lettings and hirings brought in new blood from outside, at least from Dumfriesshire, Ayrshire and Kirkcudbrightshire. The population of tenants and farm workers was extremely mobile. Even in 1850 half Tynron's population was not born in Tynron. Single men in particular moved around constantly. Some emigrated. There are 16 stones in the kirkyard recording deaths of Tynron's emigrants, mostly to New Zealand.
Disaster struck in 1845-6 with the potato blight. Potatoes were by then the staple diet and also used for feeding pigs.
Valuation of 1827
This was the first valuation after the 1671 document. It has more detail, especially of the landowners. It is interesting to note that Tynron was always the least valuable parish (after Half Morton by Gretna) in Dumfriesshire and had the smallest population, though it was by no means the smallest in area.
Crawford's Map
I love this map of 1804. It is a beautiful representation of Tynron Glen.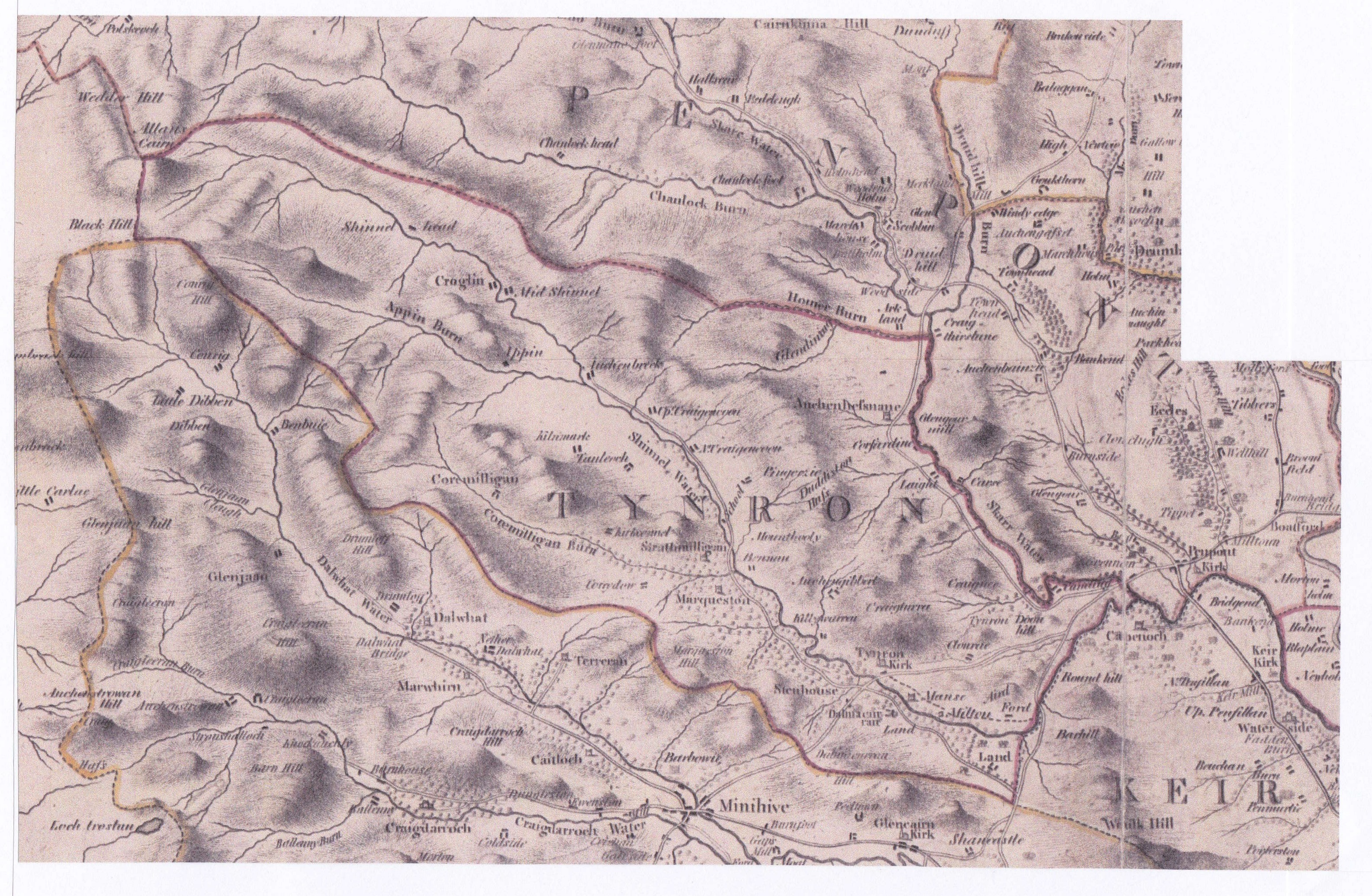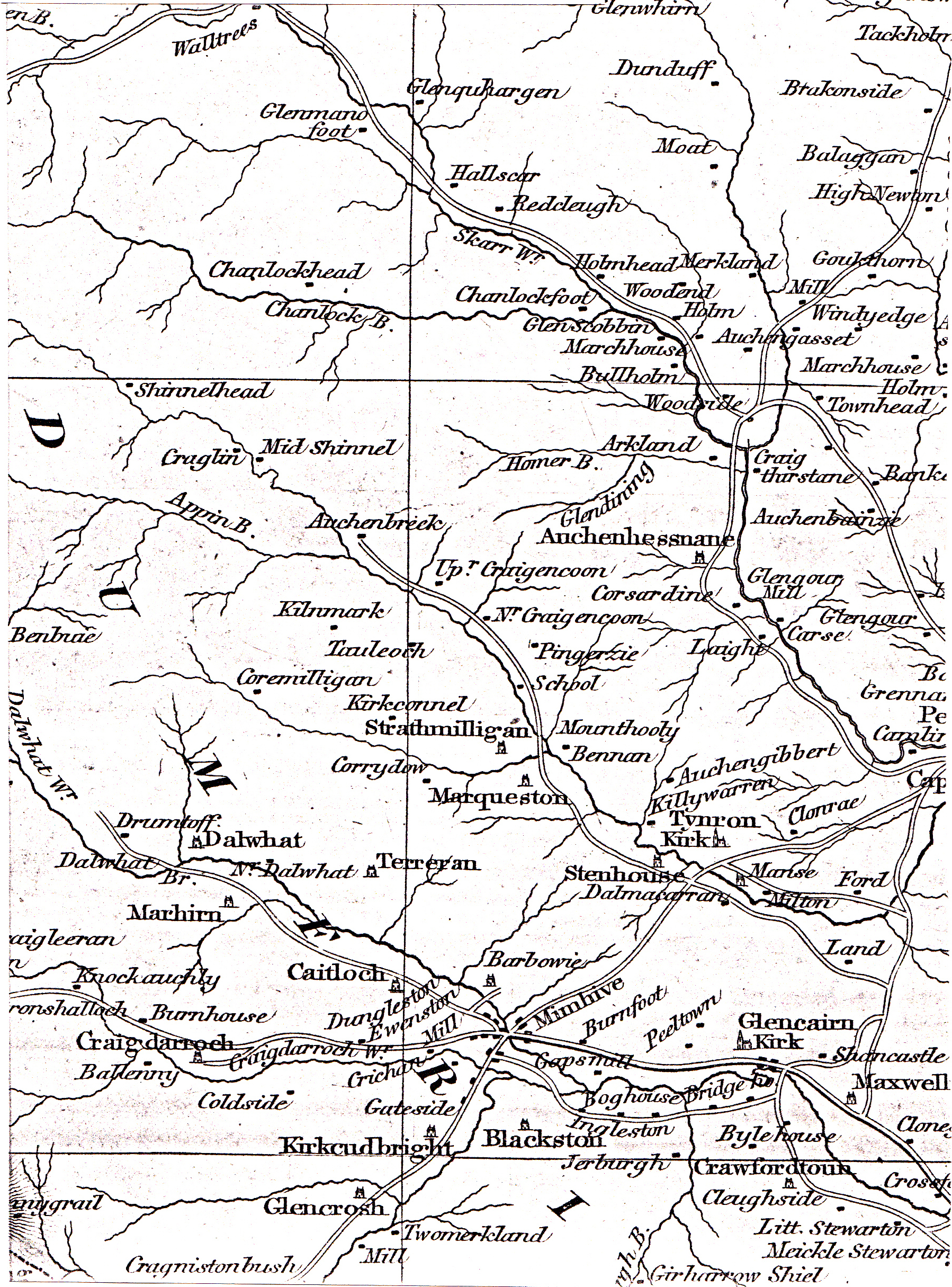 Thomson's Map
A map by John Ainslie in 1782 is fascinating, but inaccurate, marking Cormilligan on a stream running into the Dalwhat. Thomson's Map of 1821 above is plain, clear and fairly accurate and also details 994 hectares of cultivated land in Tynron, along with 3616 hectares never cultivated and 164 hectares wooded. His map compares well with its predecessors, though it is still not precise. In fact, Thomson clearly repeated mistakes made on William Crawford's nice map. Auchengibbert and Lann are particularly misplaced.
Johnston's Map of 1850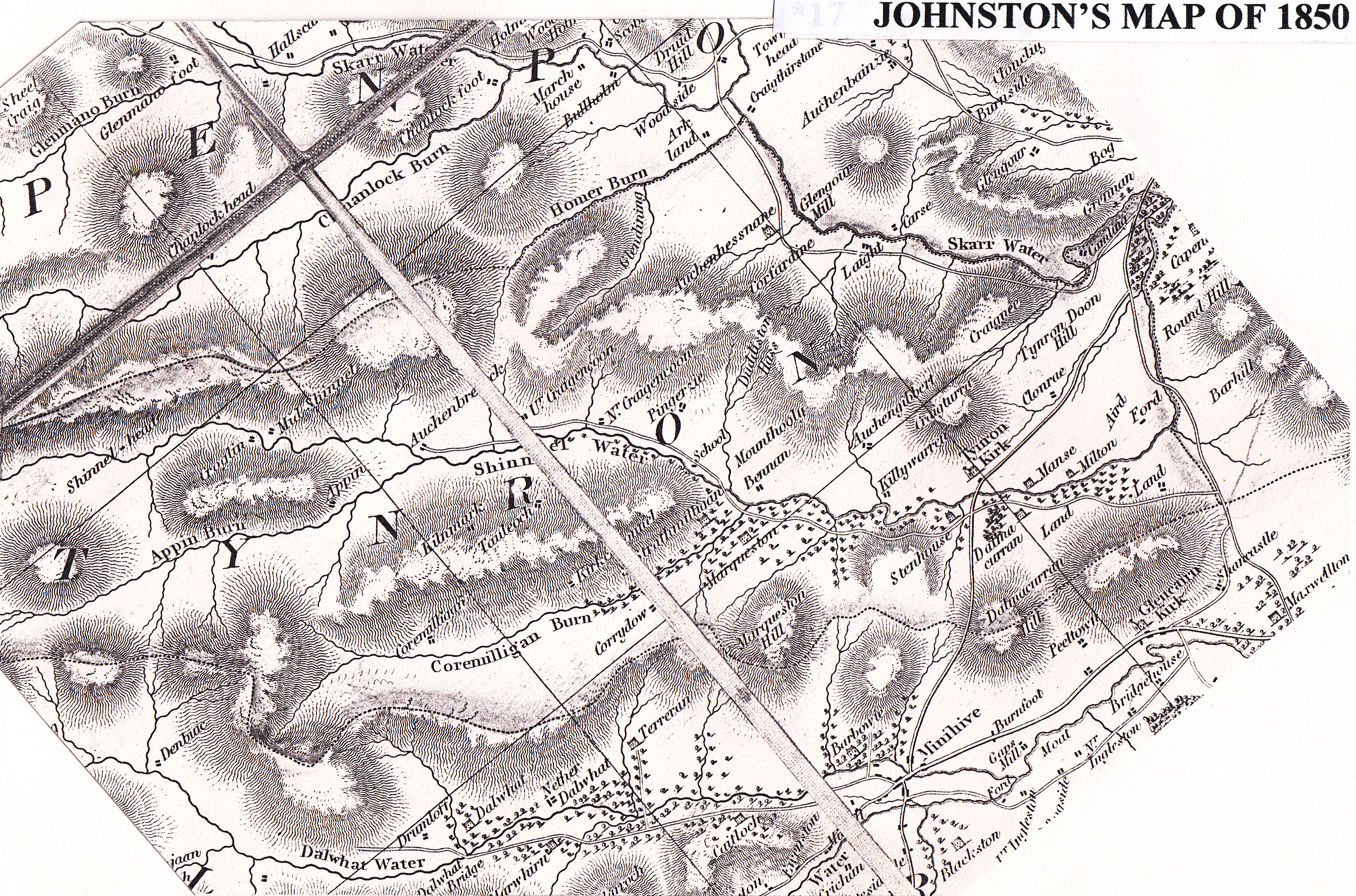 The Johnston map circa 1850 is neatly drawn and more attractive with its hill-shading, but seems to be based on Thomson and repeats some of Thomson's mistakes. See Auchengibbert and Lann again. In any case the superb large scale OS maps of the 1850s easily surpassed them. See the beautiful maps of the mill sites later as examples. The first edition OS map revised to 1896 is also a vast improvement.
James Shaw
James Shaw is one Tynron's most famous worthies. He was the schoolmaster at the parish school up the glen at Glendow, arriving into the parish in 1862. He was a lifelong bachelor, a prolific writer and sought-after speaker at events.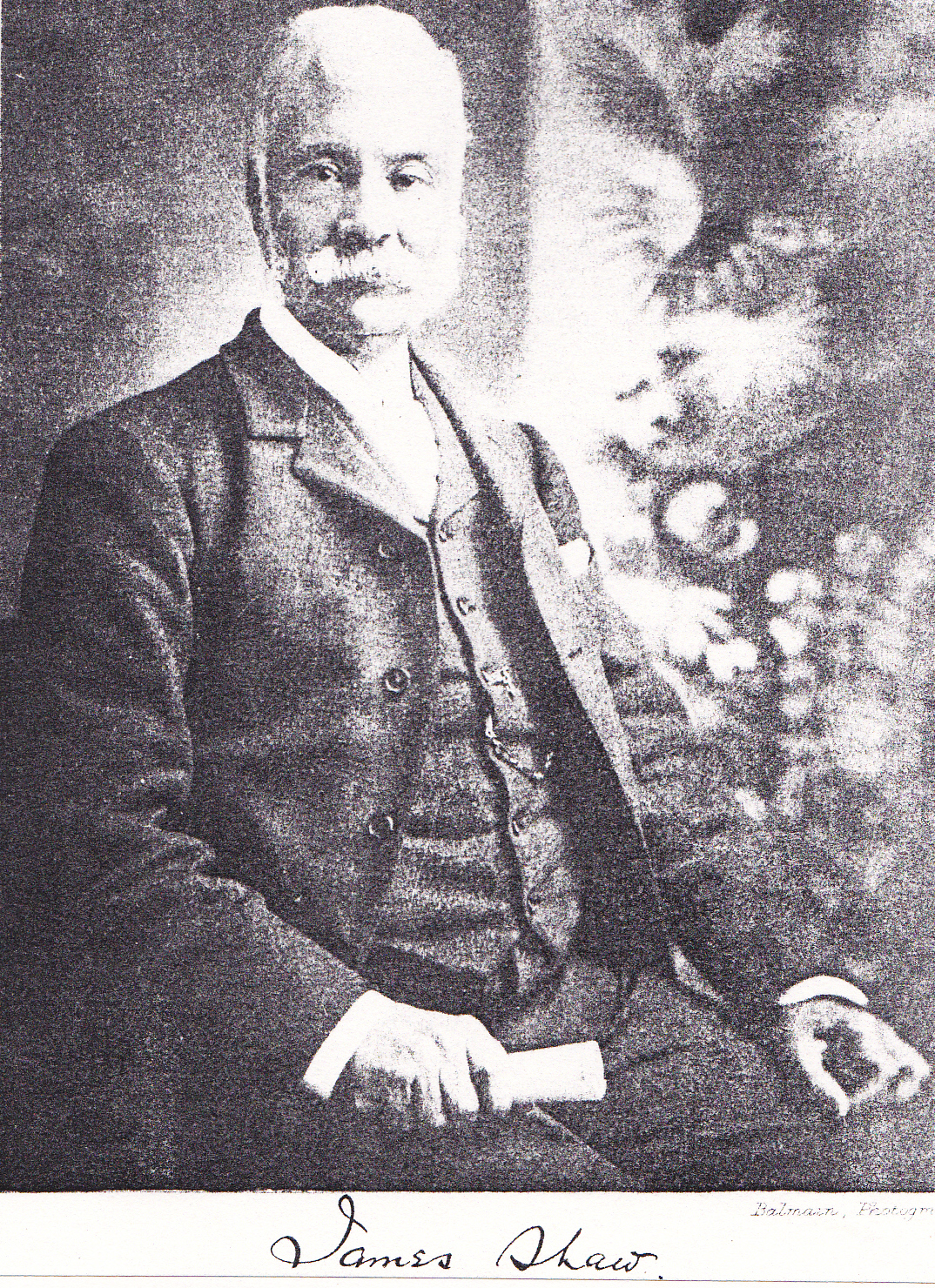 At a dinner of Queensberry tenants in 1893 "Mr Shaw kept the company lively with his quaint pawky humour".
Shaw was writing at a good time for recording change at the end of the nineteenth century. Binders, reapers and mowers slowly reduced the need for agricultural labour during this century. James Shaw notes that about 1870 cots and farmhouses were being abandoned as sheep farming increased.
He paints a picture of McCaw's farm at now-abandoned Cormilligan in the 1870s, of which more later. A sheep farm, very open, no trees, save a few Scots pines, bog. A one-storied slated, whitewashed but and ben (but it has four rooms now!) with a porch. A byre, a henhouse, a swinehouse and a stack of brackens. No wonder that some of the McCaws emigrated to New Zealand. A stone in Tynron churchyard records that eight McCaw grandchildren were killed in World War I. McCaw's great-grandchildren from New Zealand have visited, as is witnessed by their inscriptions on the asbestos walls inside Cormilligan. Unfortunately animals have had access and are gradually wrecking the insides.
James Shaw also records that the once well-used drove road, marked on the 1896 OS map below, was almost in disuse by the 1890s. Cattle and sheep from the Lanark sales had wound their way over the drove road on their way to the Stewartry, especially to Castle Douglas mart. The drove road through Tynron ran from Auchenhessnane in the Scaur Glen via Duddiestone Hass 792960, through Bennan, across the Shinnel and Kirkconnel Burns and up Gled Brae. It went thence across the top of Markmony, into Glencairn at 782927 via Bardennoch. For much of its length it runs between dykes or is a good track or footpath. Unfortunately, Economic Forestry planted over the stretch at the top of Markmony. My regular walk from Moniaive to mid Tynron Glen is now much more difficult, as the forestry has to be circumnavigated and rough tussocky grassland traversed. It is a shame the forestry people planted over the drove road, in ignorance, I expect. It was still marked as a footpath on the 1955 OS 1:25000 map, although on the top of Markmony I never knew it as a well-marked path.
James Shaw gives a wonderful description of changes in Tynron in the late nineteenth century. Here are some absorbing lines from Shaw's notes on 30 years of residence in Tynron, taken from TDGNHAS 1894-5:
The curious flat stones which roofed the houses have disappeared in favour of slates. The number of inhabited houses has decreased and their ruins are not always picturesque. Tinkers with their donkeys do not now visit us. Umbrella-menders, knife-grinders and sellers with baskets are scarce, but tramps asking alms have noways decreased.
The River Shinnel runs as of yore, arched over for many miles with a beautiful canopy of natural wood. Although illegitimate methods of securing trouts, with which it was well stocked, have been put down, yet the system of deep draining, suddenly flushing the water and carrying away the spawning beds, is an angler's complaint.
The heritors having mansions in the parish are not now resident. They spend only a few summer months with us, or let their houses, so the work of smith, coachman and domestic servants is far less in demand. On the other hand, houses that have been built or repaired since I came to the parish are much more comfortable to the inmates.
When I arrived in Tynron and for years afterwards, water was obtained almost universally from open wells, chimneys were swept by setting fire to them, messages were conveyed across straths whistling on fingers, towns were reached by bridle paths. These mountain tracts were used for sheep conducted to the great stock markets, as Sanquhar, and not being much employed for this purpose now are falling into decay.
The people around me to a greater extent than at present knitted their own stockings, plaited their own creels (baskets), carved their own crooks, made their own curling brooms or eows, bored their own tod-and-lamb boards (a game), squared their own draught-boards.
A very few women smoked tobacco like men, and a very many men had chins like women. Broom was boiled, the juice mixed with hellebore and tobacco, and used as a sheep-dip. The sheep, in fact, were not dipped at all, but their wool was combed into ridges and the composition carefully poured in the skin from an old teapot.
There were no wooden frames for bees, only the cosy-looking straw skeps. The Shinnel drove several mill wheels, now it drives only one.
There was a method of announcing the arrival of letters, by depositing them in a water-tight chamber of a cairn or mass of boulders on an eminence a mile perhaps from the shepherd's house and then erecting a huge pole or semaphore, which soon attracted a messenger.
The limbs and backs of boys were stronger and carried for you heavy carpet bags at 1d per mile. Watches were worn in trouser pockets. The schoolchildren were fitted out with stronger leather bags, like soldiers' haversacks, containing their dinner as well as their books. Their books were much more carefully covered with cloth and in some instances with white leather. Their food was more thriftily cared for and there was no débris of leaves of books and crumbs of scone left on the roadside near the schoolhouse as is at present.
The plaid was a much more common article of dress. It is now giving way to the great-coat or waterproof, which is more convenient to a shepherd, affording him pockets to hold tea for the weak lambs and covering his body better.
When I found myself in the interior of shepherds' and dairymen's houses, the old eight-day clock with wooden door and painted dial was common. It kept company with the meal-ark, a huge chest divided into two compartments, one for oatmeal, one for wheaten flour. Bacon, hams and flitches, then as now, wrapped in newspapers, hung from kitchen rafters. Puddings were wreathed round suspended poles.
Fireplaces are gradually contracting. The older ones are widest. The fire in winter, eked out by peats and cleft-wood, is often very violent in its hospitality. Seated in the cushioned armchair, I have for a while maintained conversation by holding up my extended palm for a fire-screen, but was generally obliged to push back my chair at the risk of overturning a cradle or turning the charmed circle into an ellipse.
An inner ladder was stationed in the porch or between the but-and-ben, up which the children or serving men mounted to their obscure attic hammocks. On great nails here and there in the walls hung, and still hang, crooks, shears for clipping sheep, lanterns for moonless nights, mice traps with holes, rat traps with strong iron teeth and springs.
There were no carpets on the rooms, but the floor was mottled with sheep skins in their wool and the mat before the room fire was home-made, with all sorts of dark rags stitched together, having a fluffy, cosy look.
On the chest of high drawers might be observed a Family Bible, a field glass, a stuffed blackcock and pair of large ram's horns or a basket with curious abnormal eggs and with shells from the seashore. A black cat, a brindled cat and a muscovy were generally crossing each other or demanding a seat on your knee. You would feel something cold touching your hand and presently observe it was the nose of a collie dog…
I shall pass over gatherings in connection with sheep, killing pigs etc. and remark that the kirn or harvest home is no longer celebrated. St. Valentine's Day is forgotten and the Candlemas bleeze has given way to a Christmas present. (The Candlemas bleeze was a gift from pupils to their schoolmaster on Candlemas, 2nd February). Even the Hallowe'en described by Burns – the turnip lantern and the pulling of kail stocks – is away, the only survival being that on Hallowe'en mummers with false face enter your kitchen expecting an obulus and highly gratified when you are puzzled and unable to guess their names or even their sex. (No, I don't know what an obulus is! Perhaps a small coin?)