In the Ewart Library are two boxes containing many papers appertaining to the MacRae family of Stenhouse. Anne MacRae died in 1982 and all this interesting material was given to the library by the new owners of Stenhouse, instead of being thrown away, as it might have been. The contents include private letters, legal and estate papers, all manner of tradesmen's accounts, school reports, rent statements and photos. I have been through it, but I have by no means read it all. From it an interesting picture emerges of a landed family over a specific period.
Donald MacDonald MacRae was one of ten children born at Kingussie. I have been told that he was in fact adopted, as his father was a gamekeeper on the estate and was shot in a shooting accident. That's as maybe, but he was trained for a commercial career and leased Stenhouse estate from Buccleuch in 1892. In the same year he married Rosalie Lloyd, 13th of 14 children, a daughter of the Lloyds Newspapers magnate.
He bought Stenhouse from Buccleuch in 1907. By 1909 he owned Parkhouse smithy and Markmony and was renting Birkhill from Laurie of Crawfordton. In 1912 he purchased Kilmark and Strathmilligan, for which he needed a large loan, the terms of which are reproduced in full:
PROPOSAL FOR LOAN OF £7,000
over
Heritable Subjects in the Parish of Tynron
in the County of Dumfries
1st February, 1912
……………………………………………………….
BORROWER: DONALD MACDONALD MACRAE, Esq. of Stenhouse, Tynron.
AMOUNT OF LOAN: £7000
RATE OF INTEREST OFFERED: 4 per cent per annum.
SECURITY SUBJECTS:
(FIRST) Stenhouse Estate described in the title deeds relative thereto as, ALL and WHOLE the Mains and Lands of Stenhouse Mill and Multures thereto belonging, and Lands of Margmony, being parts of the Ten Merklands of Stenhouse and ALL and WHOLE the lands of Clackquhounack and teinds, parsonage, and vicarage of the same, with the houses, biggings, yards, orchards, mosses, muirs, meadows, parts, pendicles, and universal pertinents of the said lands lying in the Barony of Glencairn, Parish of Tynron, and Sheriffdom of Dumfries.
(SECOND) The lands of Kilmark and Strathmilligan with the teinds and pertinents thereof, described in the title deeds as
ALL and WHOLE the lands of Marquieston now called Marquieston Park, being a part of the Ten Merkland of Stenhouse as sometime possessed by Samuel Williamson and thereafter by James McTurk, Esquire of Stenhouse…

ALL and WHOLE the right of property or dominium utile of the Lands of Tinlego alias Tinleoch with the pertinents thereof, together with the teinds, parsonage and vicarage of the same and the woods, fishings, parts, pendicles and pertinents thereof as sometime possessed by Robert Kennedy, together with such part as shall correspond to the said lands of Tinlego of the seat in Tynron Kirk sometime occupied by Walter Wilson of Croglin and his family situated directly opposite to the Pulpit and LASTLY all and WHOLE the lands of Strathmilligan and Kilmark described in the original title deeds thereof as the two Merk and a half Merkland of Strathmilligan and one Merkland of Kilmark with houses, biggings etc…
The Stenhouse Estate, being the Subjects first above referred to, was purchased by Mr. D.M.MacRae from his Grace the Duke of Buccleuch at Whitsunday 1907, for the sum of £12160; and the lands of KILMARK and STRATHMILLIGAN, being the Subjects second referred to, have been purchased by Mr. MacRae from the said Duke of Buccleuch, with entry at Whitsunday 1912, for the sum of £6900 sterling, making a total purchase price … of £19060.
        The Annual Rentals, per Valuation Roll, in respect of the STENHOUSE ESTATE, are as follows:

        Farm and House, Stenhouse…………………….£255

        Summer House…………………………………………..£2

        Woodlands………………………………………………..£6

        Stenhouse Cottage……………………………………..£4

        House, Smithy and Byre, Parkhouse…………….£5

        Shootings………………………………………………….£10

Total assessable rental in respect of Stenhouse………£282
The Annual Rental of the Lands of Strathmilligan… ..£69.1
and the Farm of Kilmark has been let as from Whitsunday 1912 at an annual rental of……………………………………………………………………..£200
                                                Together…….£551.1

The Annual Burdens, in respect of Stenhouse, are as follows:
        Feu Duty………………………………£1:17: 4

        Land Tax……………………………..£4:  2: 5

        Minister's Stipend………………..£10:15: 8

        County Rates………………………£11:14: 8

        Parish Rates…………………………£7:  9: 7

Total Burdens on Stenhouse……………..£35:19: 8
The Annual Burdens, in respect of Kilmark and Strathmilligan, are as follows:
        Feu Duty…………………………….£12:  2

        Minister's Stipend………………..£12:13: 6

        County Rates………………………£10:  1: 9

        Parish Rates…………………………£7:16:11

Total Burdens on K. and S………………..£31: 4: 4
Total Burdens…………………………………£67: 4:-
Nett Annual Rental of Security Subjects………………..£483:17:-
CONDITIONS OF REPAYMENT follow…
BORROWER'S AGENT: DAVID PATERSON, Solicitor, Thornhill.
So much historical information is included on such deeds, which are often hidden away.
For tax purposes a valuation roll for Stenhouse Estate was prepared in January 1915. This too is an important local historical document.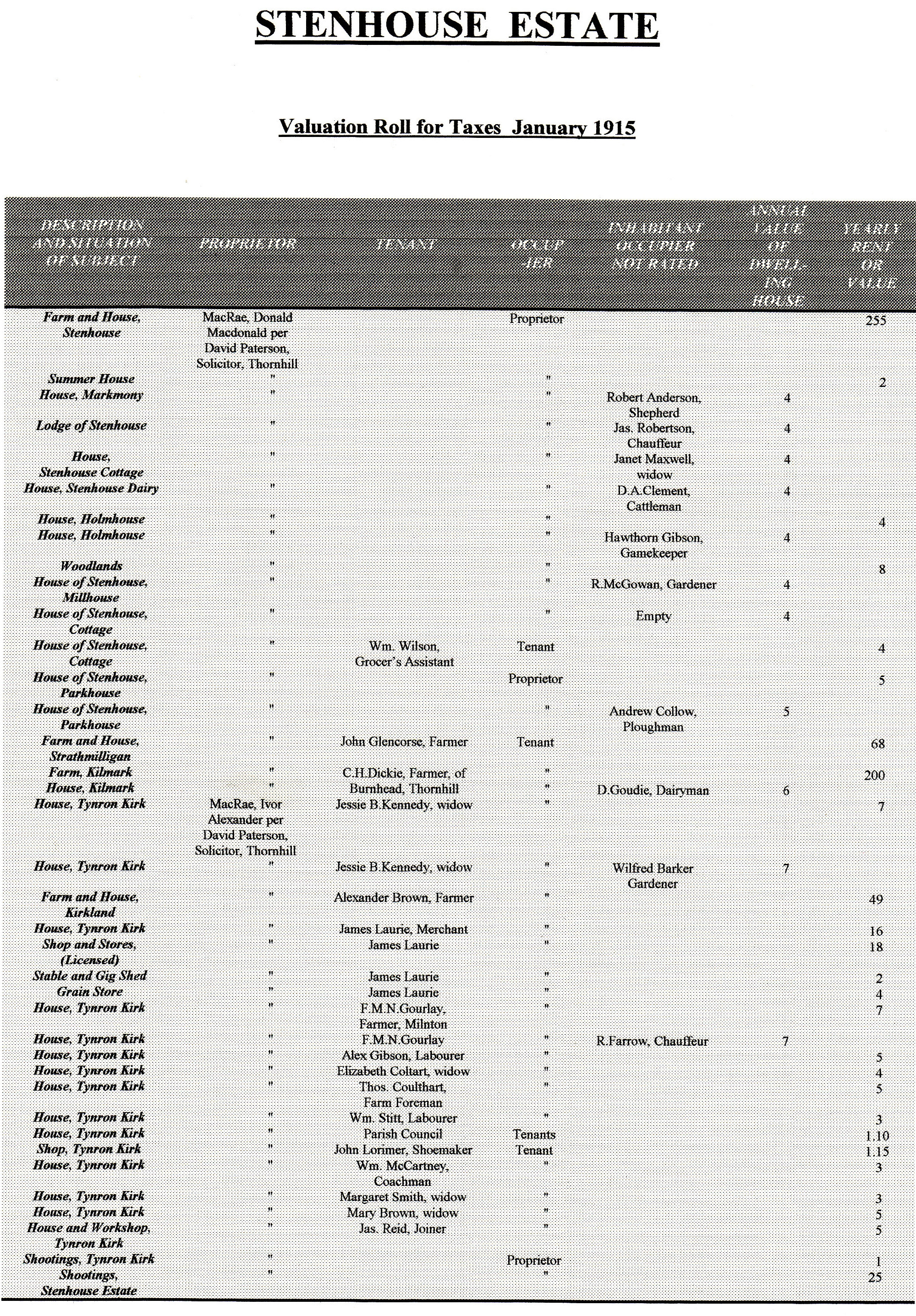 Donald was a very important man. He was a JP, was on the County Council, chairman of Tynron Parish Council, on the School Board, President of Dumfriesshire Liberal Association, a director of Nithsdale Auction Company and President of Nithsdale Horse Society. He had a finger in every pie. He attended the United Free Church of Glencairn to which he donated an organ in 1900. By 1911 he had what I expect could be the glen's first car.
He was a renowned breeder of Blackface sheep but his pride and joys were his pedigree Aberdeen Angus cattle. He was a keen shooter and was responsible for killing thousands of birds, hares, rabbits and occasional deer. His game books show the tally. Blackcock and red grouse were the favourites.
As an example of his liberal views, MacRae proposed splitting Dalmakerran into smallholdings during the First World War. The local Tories would have none of it!
MacRaes had three children, Annie Marion MacDonald born in 1893/4, Ivor Alexander in 1895 and Ruth Margaret in 1909. Ivor was a blue at football and cricket at Harrow. He joined the KOSB and was a 2nd Lieutenant when he was tragically killed in the Pas-de-Calais two months into the war and was buried at Béthune. There are many letters of sympathy and it is clear that Donald never fully recovered from his son's death.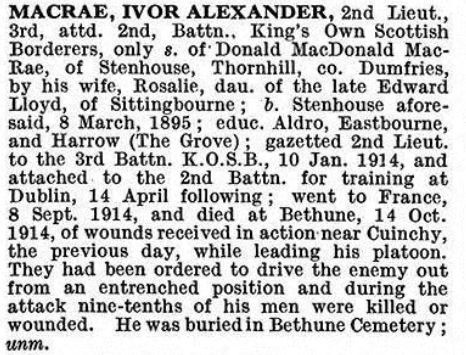 Donald died of pneumonia 28th November 1917, aged 52. His funeral was a big event. He was given a Highland funeral and the service at Tynron was carried out by Rev Wilson from Glencairn Free Church with the assistance of Rev Carmichael.
In 1913 Donald MacRae bought Kirkland and Tynron Village from Kennedy for his son, Ivor. Ivor's death led to many complications with the ownership of Kirkland.
Rosalie was left with two daughters. There is little about Rosalie, Annie and Ruth in the records and I do not really know much about them. Rosalie set up the Tynron Jubilee Nursing Fund in 1897, which lasted until 1913. She was also a founder member and president of Tynron WRI. Rosalie died 2nd November 1935 and is buried in the MacRae plot, which holds a prominent place in Tynron Kirkyard.
The ownership of Tynron Village was transferred to Annie and Ruth after Ivor's death. In 1935 Strathmilligan and Kilnmark were sold to Auchenbrack, but Markmony was retained.
Annie had most to do with the estate and lived at Stenhouse until she died 8th October 1982. She was the last of her kind in the glen. Ruth married in 1941, became Mrs Walch and moved to near London with Dr Walch. They would visit Stenhouse in the summer. Ruth died 1st August 1991.
Ivor's name is on the war memorial in Tynron. I believe it was originally financed by the MacRaes, as Ruth certainly had paving stones around the memorial laid in 1929.
There are many fascinating details about the house. Many tradesmen's accounts are in the collection. For example, electric lighting was installed in 1907, using power from the waterwheel to charge batteries. Many alterations had to be made to accomplish this and there were not a few problems with it afterwards. The conservatory was built in 1902 and expensive improvements were gradually made to the house. A complete list of furniture exists ordered from one firm for £522 on entry to the house in 1892. Many of these goods were collected from Crossford Station. In the 1980s the conservatory was taken down and all the furniture and contents were sold in a house sale in 1984.
I was hoping to find something about Stenhouse Tower, the folly, or summer house as it is called on the valuation roll and the loan proposal of 1912. It is a peculiar place and rotting fast by 1996. It consists of one room with a fireplace and fittings, most of which have gone. Access to the roof was gained by an exterior spiral iron staircase, recently wrecked. I believe it was built circa 1909, for reasons unknown, but there are many rumours!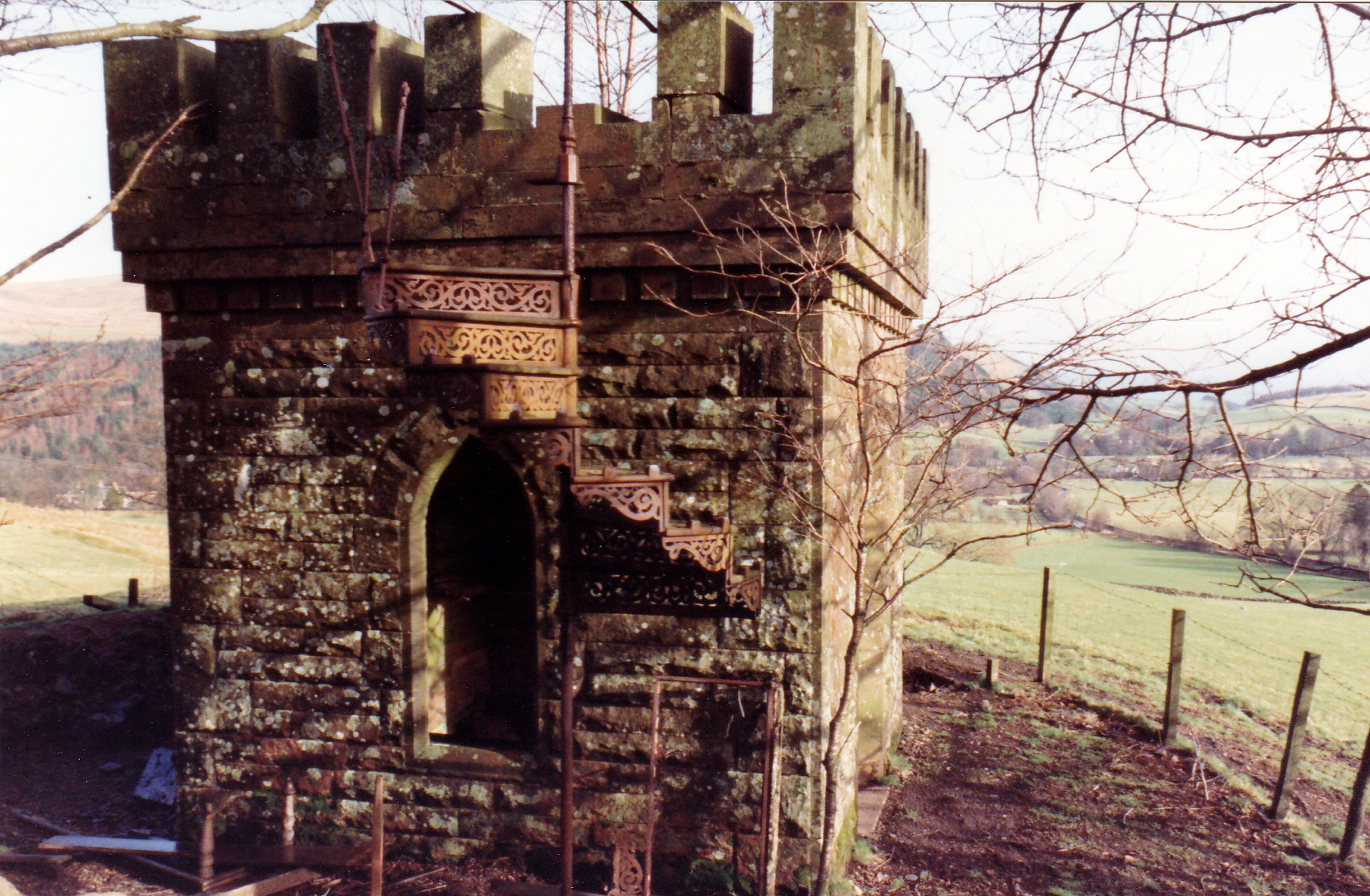 Stenhouse Folly decaying
Kirkland was sold in 1951 and has had many occupants since. The present owners have spent a fortune in restoring Kirkland to its former glories.
As for the farm, in 1931 it still employed a cattleman for 23 cattle, a shepherd for 346 sheep on Markmony, a ploughman, a dairywoman, an assistant shepherd and fencer and also a general farm worker.
These six full-timers were augmented by casual workers for the hay. Turnips, oats and cabbages were grown. The farm still had two work mares (old) and 40 hens. In 1931, however, all the pedigree Aberdeen Angus stock was sold at Perth. The farm made a loss most years. Plus ça change…! There was other income, though, from land and shares.
In 1982, with Annie's death, the estate was broken up. The village houses have all been sold individually and the land has been split up. Most is now in Bennan, only two fields being retained. So a once famous estate is no more and a beautiful steading stands silent.
In the 1691 Hearth Tax John Douglas at Stenhouse had easily the superior house in the glen with 13 hearths in his mansion. MacRae made Stenhouse the pride of the glen again. In the 1990s there has been much work to modernise Stenhouse, not a few trees have come down and rhododendrons removed.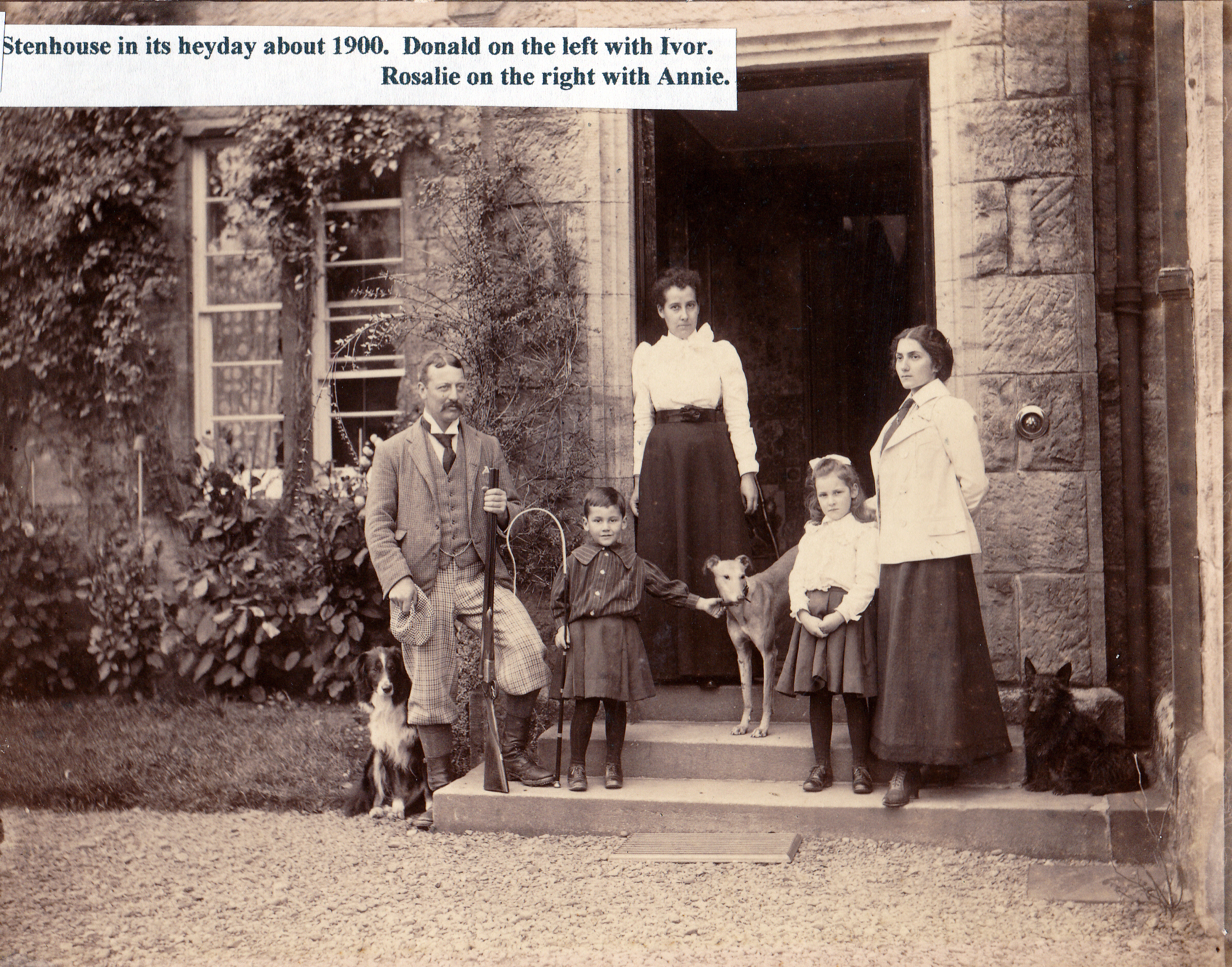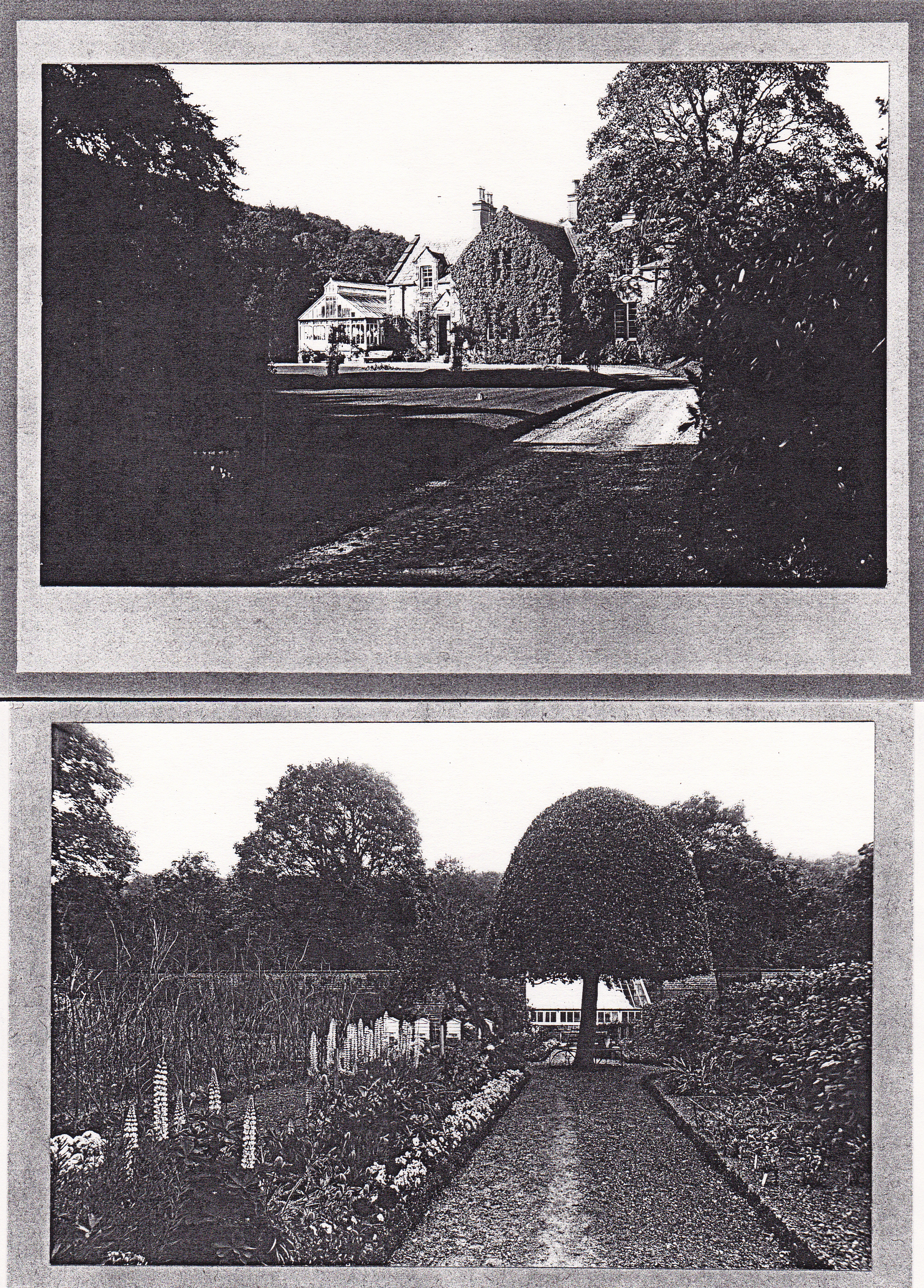 The gardens in their prime