Some Statistics
Tynron Glen consists of about 5,620 hectares, 56.2 square kilometres or nearly 13,900 acres and 21.7 square miles.
The glen is barely 5 kilometres wide at its widest above Auchenbrack, by 17.5 kilometres long from High Countam to Wauk Hill. Penpont Parish is to the north-east, Keir to the east and Glencairn to the south-west. Dalry and Galloway touch the western tip.
Shinnel Glen trends north-west to south-east. The lowest point is about 60 metres at Scaur Bridge. The highest points are up the top of the glen at Colt Hill 598 metres and Lamgarroch 573 metres. There are some thirteen tops over 500 metres.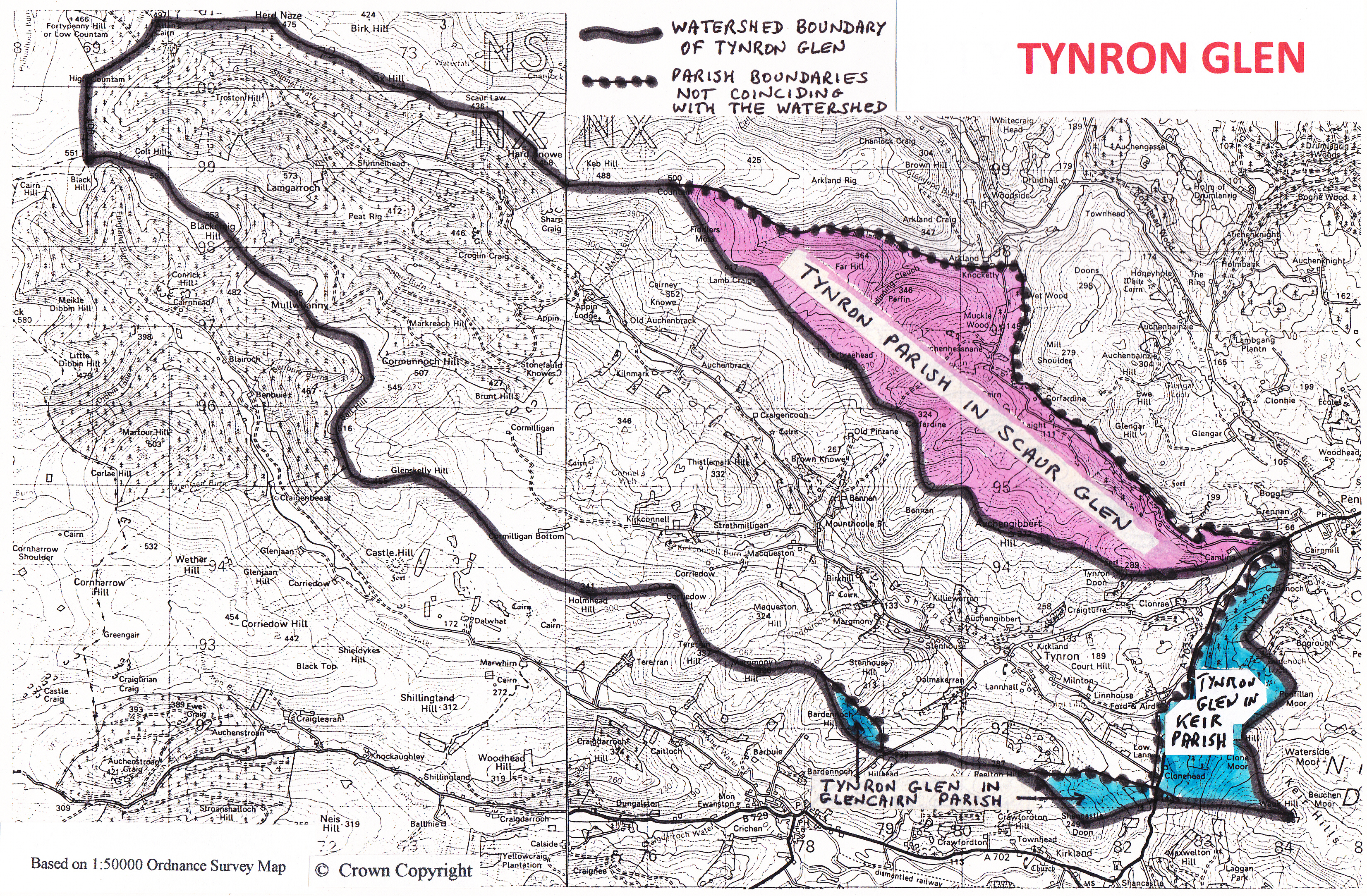 The Parish Boundary
The map above shows that the parish boundary follows very closely the watershed of the Shinnel. I have walked all the watershed and it does puzzle me as to why the parish boundary, when set in the twelfth century (presumably), is not always precisely on the watershed. It strays by a few metres in places where it would have been just as easy to keep it on the watershed.
Strangely, the parish for some reason takes in the lower part of Scaur Glen to the south-west of the river, which geographically and logically belongs with Penpont. Tynron Parish does not include the very eastern part of the glen on Capenoch, which for some other reason is in Keir Parish. The land adjoining Shancastle Hill and a smaller patch north of Hillhead of Dunreggan were pinched by Glencairn Parish. This has an annoying effect, even today, where, for instance, the inhabitants of Barr Farm have to vote at Keir, while those at Auchenhessnane must vote at Tynron. The parish boundary must have depended on the feudal boundaries of land holdings.
This work deals with the Shinnel Glen, everything within its catchment area, although inevitably some of the statistics refer to Tynron Parish.
William Wilson
William Andrew McCubbin Wilson's books on Tynron stimulated my interest and have led me to write a 1990s version. Willie Wilson has something to answer for in calling Tynron Doon a volcano, a widely-held local belief, but his books are lovely to read and have given local people a written record of many aspects of local history. He was a romantic with his own picture of the past. Read his poetry to see that.
Ewart Library
I have scoured the Ewart Library in Dumfries, which contains much of interest. The Ewart has organised its local section very well and everyone is very helpful there, but for Tynron, unfortunately, much information is bitty and scattered through many volumes. I have tried hard to assimilate all this information and to produce a piece of work that will be readable and interesting to everyone with an interest in Tynron. I have given references to the most useful sources at the end of this book. By no means everything in this book is taken from other books, as my own opinions and prejudices are thrown in for good measure. You may agree with them or not.
I came to Tynron in 1980 with my wife, Mary, and my children, James, William and Rebecca. Three years were spent at the Ford, then five years at Thornie Park on Auchenbrack. In 1988 I moved to Moniaive. I was a teacher for ten of those years at Crawfordton House School, Moniaive, which closed its doors in 1995. I am an outsider, but then so is almost everyone who lives in Tynron Glen. The Glen has been swamped by incomers since 1800. Of those who live in Tynron Glen now precious few can claim to have been born in the parish.