I decided to do some more detailed research on Auchenbrack and the surrounding lands. These were chosen because I was staying at Thornie Park on Auchenbrack when I started this work, though I am sure other farms would be equally interesting.
Maitlands
Auchenbrack was a separate holding as early as 1369. "The History of the Douglas Family" contains this first reference to Aghenbrekis, when it was transferred from one branch of the Maitland family to another.
In 1451 the king granted the Barony of Tibbers to George de Creichtoun, Knight, but later the same year William Matelande's charter to it was confirmed and it was returned to the Maitlands. Later in 1451 James Maitland received the barony from his brother, William, and it included Achinbrek. So Auchenbrack was just one of the many lands in the Barony of Tibbers, which seems to have included all the land between the Shinnel and the Scaur.
The Maitland family of Auchingassill (Penpont parish) were prominent until 1606, when their lands were taken over by the Queensberry Estate.
Douglases
The Barony of Tibbers, including the five merkland of Auchenbrack had passed in 1509 to the Douglas family and indeed may have belonged to Douglases before, who had marriage connections with the Maitlands.
In 1579 Bessie Douglas, widow of John Hunter at Auchinbrak, died and left her estate to John Douglas of Killiewarren. Douglases were in Pinzarie, Stenhouse, Kirkland and Killiewarren in the seventeenth century.
Achinbraik is marked on the Pont map of circa 1590 and in 1685 Sir Duncan Campbell, a prominent Argyll supporter, lived here. The Hearth Tax shows Thomas and William Hunter at Auchenbreck as tenants of Queensberry in 1691. The 1690s were bad years and Queensberry's tenants at Auchenbrack, like James Hunter, Jon Tait and William Hunter were in severe debt. The Hunters were a prominent Tynron family in Bennan, Pinzarie, Craigencoon and Auchenbrack. It is said that they were chased out at the point of a gun by the Douglases.
Williamsons
The parish registers, first mention 1751, show that the Queensberry tenants at Auchenbrack were Williamsons, first James, died 1787, then Samuel, died 1807, then another James, until he died in 1840.
In 1810 Buccleuch took over the run-down estates of Queensberry and Auchenbrack was to benefit greatly. The final dykes were built and then, probably in the 1830s, the present steading was constructed. The rectangular steading was commissioned by Buccleuch and designed by famous Dumfries architect, Walter Newall, to provide up-to-date stables, byres, mill, storage and a bothy.
The new steading shows up well on the 1854 Buccleuch Estate map below.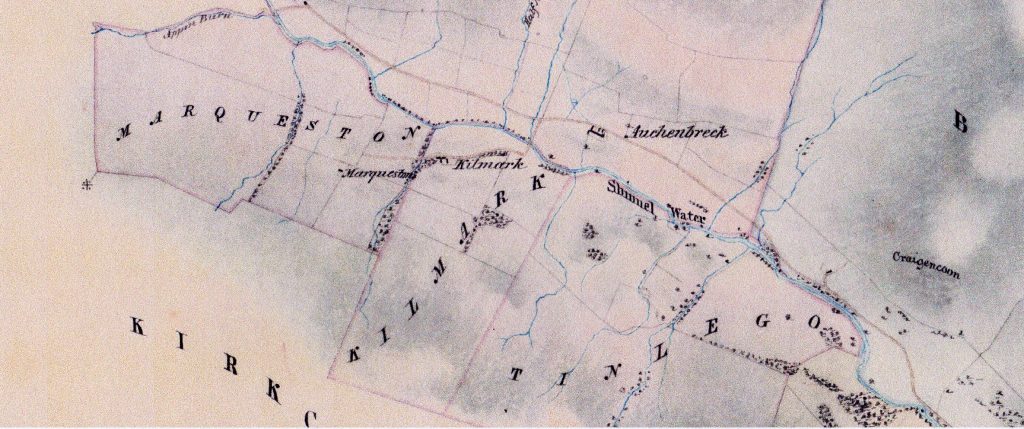 Wallaces
The 1841 census shows the coming of the Wallaces, well, Samuel Williamson Wallace initially. He was 30 years old and a tenant of Buccleuch at £300 per annum.
Samuel Wallace married Susan Reid and by 1851 he employed 12 labourers and ran 1900 acres. In 1852 their first child, James Reid Williamson Wallace, was born, giving us the clue that the Wallaces were not unrelated to the Williamsons.
The 1861 census is a great example of the interesting information that can be revealed. It says Auchenbrack (at that time usually spelt "Auchenbreck") had ten rooms with windows:
| Glencairn | Samuel Wallace | 50,farmer | | Dalmellington | Susan Wallace | 37,wife | | Tynron | James | 9,scholar | | Tynron | Robert | 7,scholar | | Tynron | Samuel | 6,scholar | | Tynron | Janet | 4 | | Tynron | Margaret | 2 | | Tynron | John | 1 | | Sanquhar | Agnes Kerr | 22,governess | | Carsphairn | David Clark | 29,shepherd | | Penpont | Robert Kerr | 17,ploughman | | Tinwald | Marion Hucheon | 29,cook | | Glencairn | Margaret Thompson | 18,dairymaid | | Tynron | Jane Ritchie | 15,nursery maid |
Further children, Quintin and Walter, were born later. The herd and ploughman would have been in the bothy, the servant girls in the house and the sexes kept apart as far as possible. Jane Ritchie's family were in Old Auchenbrack.
The long-serving shepherd for the Wallaces at Old Auchenbrack was her father, James Ritchie. He and his wife, Mary Armstrong, had at least ten children, several not surviving childhood. Living at Old Auchenbrack, which only had one room with a window in 1861, must have been rather crowded, but only too typical of the times. James Ritchie was twenty years old in 1841. He spent all his working life herding on the braes of Auchenbrack, till he died in 1887, aged 70, or so it says on his stone in Tynron Kirkyard. This was not typical, as other workers came and went. Ritchie himself was born in Closeburn and most labour was hired in from surrounding parishes. Samuel Wallace was from Glencairn, Mary Ritchie from Durisdeer. Wallaces had servants and labourers from Sanquhar, Carsphairn, Penpont and Tinwald, even one from Ireland and one from England. Tynron has never been a place where families have stayed for ever.
In the 1870s Princes Park Cottage was built, where Auchenbrack's second herd stayed.
The 1881 census reveals that only a housekeeper, Jane Rae, unmarried and aged 55, was in Auchenbrack with its 15 rooms with windows. This supports James Shaw's comment that the heritors were all away for the winter and returned for the summer, after the census month of April.
In 1885 fire destroyed half the dwelling-house of Auchenbrack.
In 1890 the farm came up to let from Whit Sunday. It was advertised with 1950 acres, including 473 arable, meadow and enclosed pasture. It had good dairy, Cheviot ewes with half-bred lambs and Blackface ewes with cross lambs. Present tenant not an offerer (or so it said in the newspapers). At least since 1875 James Reid Williamson Wallace had been the joint tenant. Samuel had died in 1884 and James was in charge. James was renting Appin too after 1890 and Shinnelhead from 1895, building up a vast area at the top of the glen. In 1905 he moved to Auchenbainzie, Penpont and younger brother, John William Wallace, became Buccleuch's tenant in Ford. James Wallace retained the tenancy of Appin until 1917 and died in Thornhill in 1922. Quentin Wallace held Shinnelhead until about 1960, when it was bought by the Forestry Commission, while more of the family moved in to Macqueston and Corriedow until they left in 1923. Wallaces left Ford in 1933 and all that remained of the Wallaces then was the tenancy of Shinnelhead.
I chanced upon the graves of Samuel Wallace, his wife, Susan Reid, and eldest son, James Reid Williamson Wallace in Glencairn Churchyard.
Robert Wallace
Robert, named above on the 1861 census, became Professor Robert Wallace of Agriculture and Rural Economy at Edinburgh University, a leading world authority on agriculture, who wrote about farming practices in places like India, Egypt, New Zealand and Canada. He helped write "Country Schoolmaster" about his Tynron teacher, James Shaw and his own short biography is in the Ewart. His brother, Samuel Williamson Wallace, was Director of Agriculture in Victoria, Australia in 1902. These photos of Professor Robert show him at Washington as a delegate to the World Dairy Conference in 1923 and lecturing Canadian soldiers.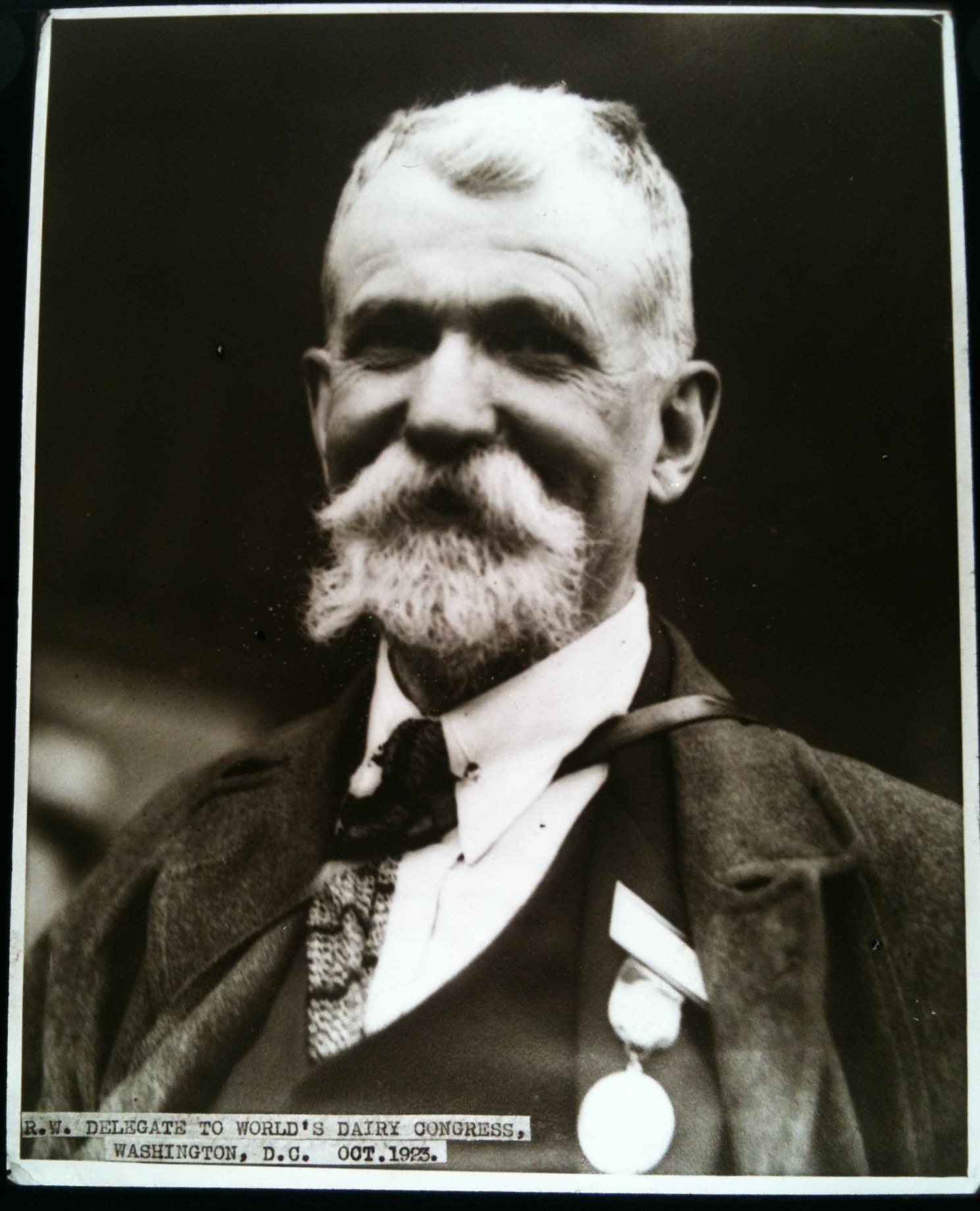 Samuel Wallace
Samuel, the farmer on the above census, had a grandson Samuel Thomas Dickson Wallace (pictured), who for a while was at The Ford, and who won the Victoria Cross in the First World War in the Royal Field Artillery. In the 1930s he was in India as an agriculturist. All three of these notable men were educated by James Shaw at Tynron School.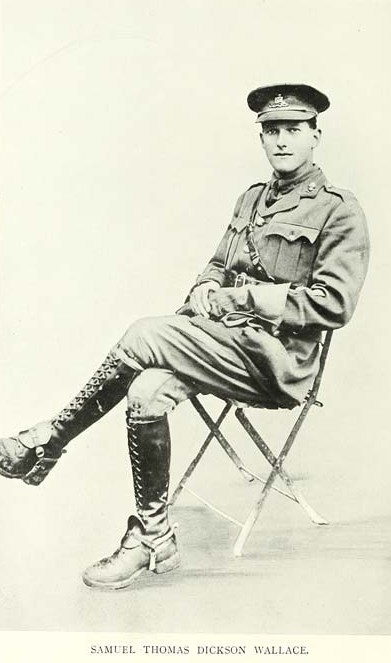 Gaskells
In 1912 the tenancy was taken over by William Rawstorne Gaskell, known as Ross to everybody. The Gaskells had been in engineering and the Liverpool Daily Post in Lancashire, but this Gaskell was an agricultural student. He married Florence Helen Melland in 1915, but the war got in the way of everything. Frankie Gourlay at Milnton had arrived in the glen at much the same time as Ross Gaskell. They were both officers in the KOSB in the war with Ivor MacRae. The Gaskells had four children, Trevor Roger 1920, Peter Holbrook 1922, Elizabeth 1927 and Daniel Hunter 1930.
1926 was a landmark as Ross Gaskell bought Auchenbrack from Buccleuch. In 1927 he started building. Firstly he made the terrace and put a second storey on the old part of the building. In 1933 the tennis court was made and two years later the new wing was added nearest the road.

Does anyone remember when there were phone numbers like 36Y?
In 1932 Gaskell became tenant of Holmhouse from Stenhouse, then in 1935 Strathmilligan and Kilnmark were bought from Stenhouse. The 1920s and 1930s saw the planting of the now familiar windbreaks on the hillsides, named after important events, starting with Dan's Wood in 1930 and finishing with Exhibition Wood in 1938. There were only ten acres of woodland on Auchenbrack previously.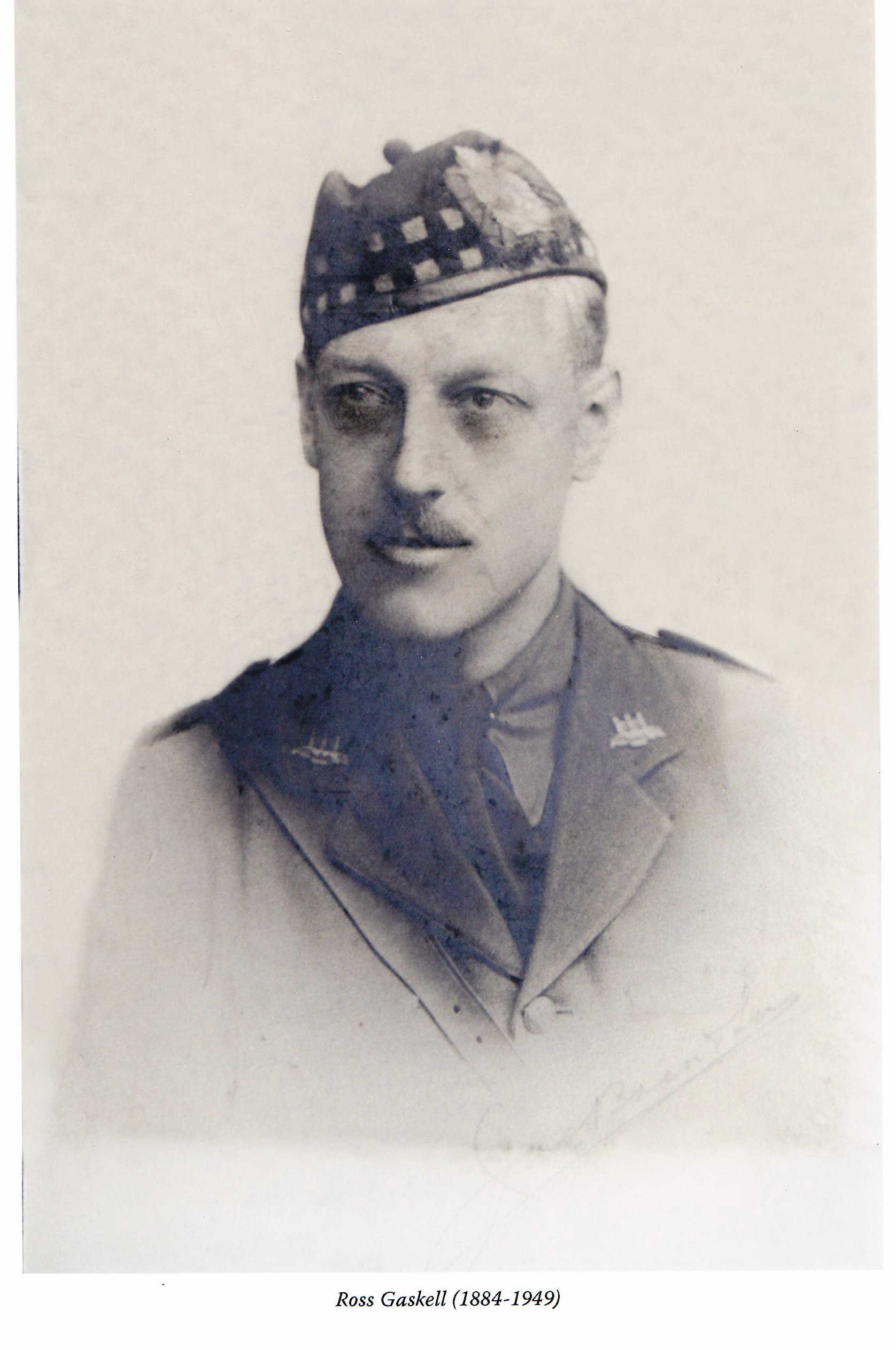 Ross Gaskell
World War II brought tragedy to the Gaskells, as Sergeant Pilot Trevor of the RAF Volunteer Reserve and Able Seaman Peter (on the destroyer HMS Somali torpedoed by a U-Boat on the Russian convoys) were killed. They are two of the five names on Tynron war memorial.
After the war Thornie Park was built in 1949, at which date the bothy at Auchenbrack finally ceased to be lived in. Princes Park Cottage was renamed Primrose Cottage circa 1955, but now it is Princes Cottage again. Prince is said to have been one of the horses. Horses were still hauling trees on Auchenbrack in the 1950s.
Ross Gaskell died in 1950, but his wife, Helen, not until 1980.
Mains electricity came to Auchenbrack in 1954, though there was already a 110 volt supply from a petrol-driven engine and batteries.
Auchenbrack Farm
Auchenbrack in 1991 has 1100 Blackface ewes and 15 Blueface Leicester ewes on 797 hectares. The Blackface ewes are kept for five years and crossed with 30 Blueface Leicester tups to give a 135% lambing rate, high for a hill farm. Three Blackface tups are retained to keep a small supply of home-grown ewes. The rest are bought in.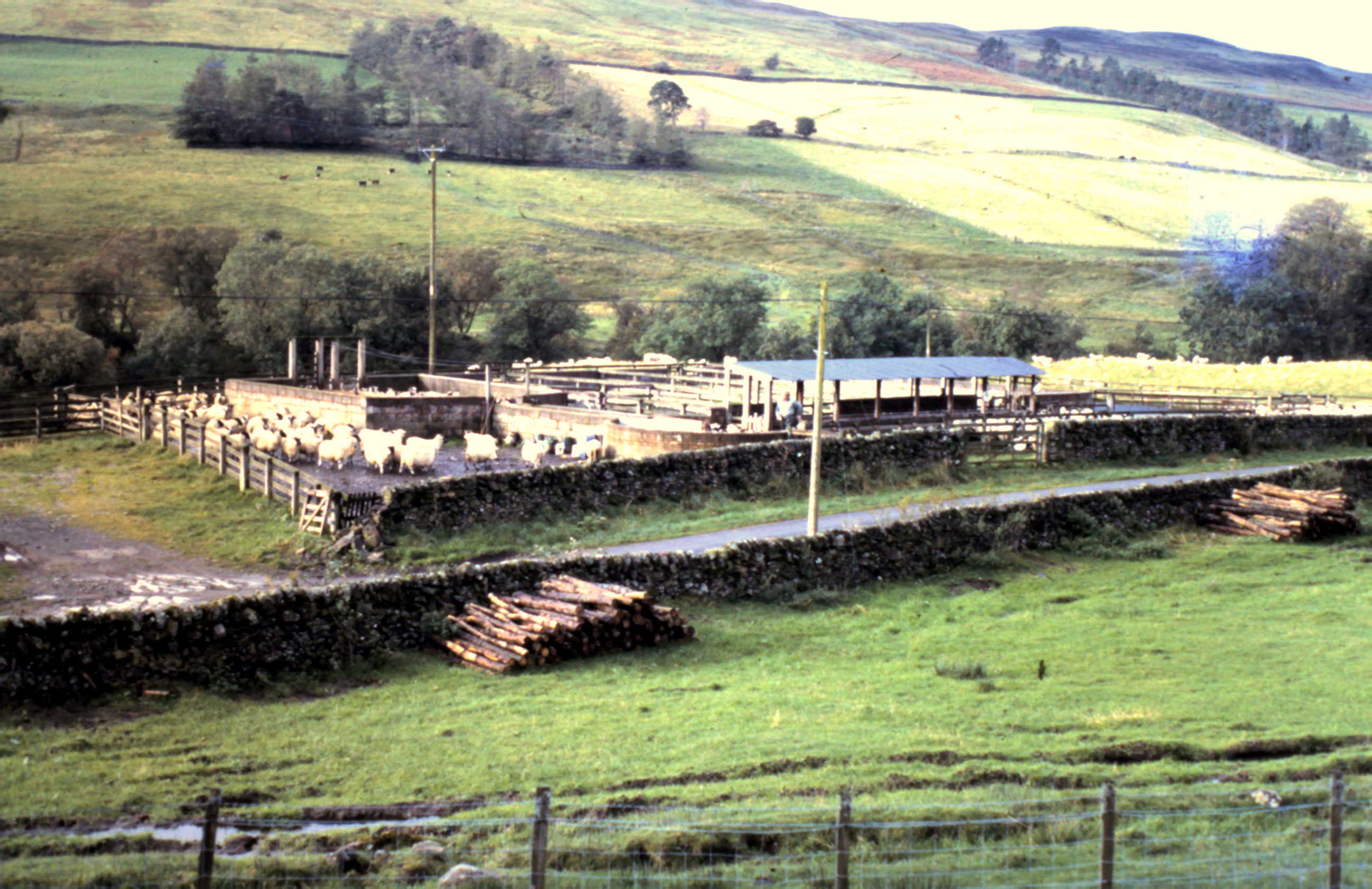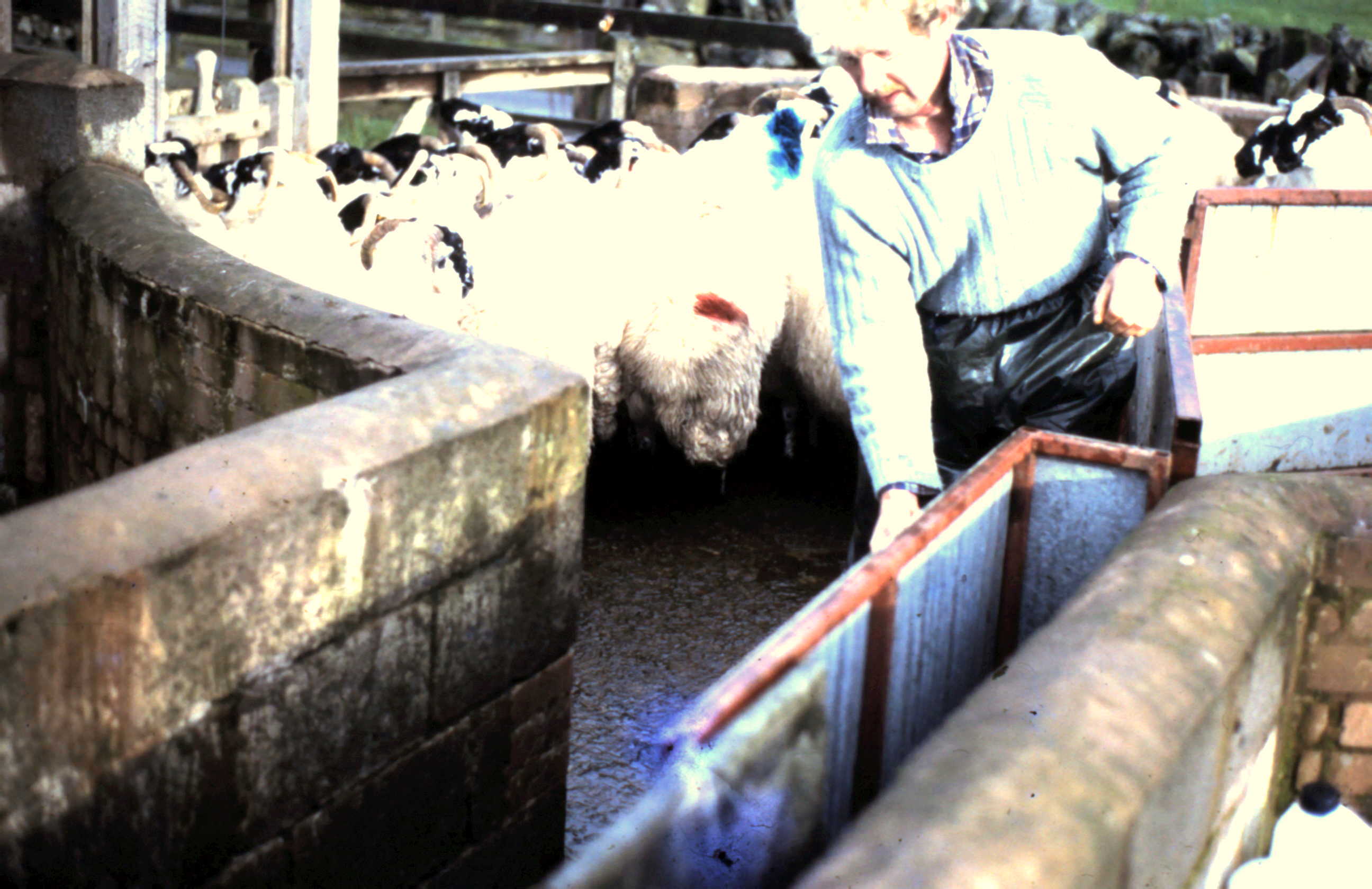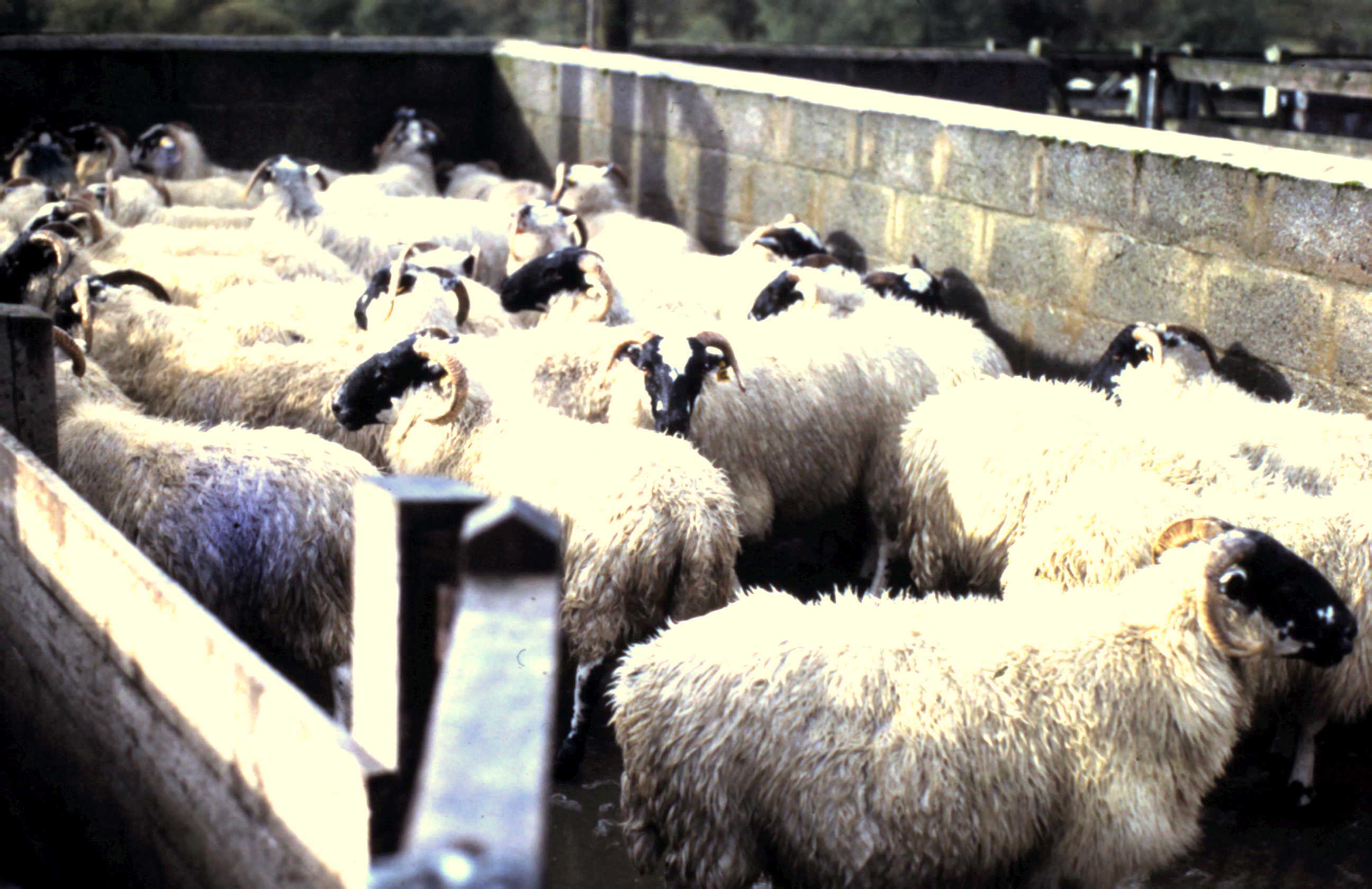 There are 70 beef cows, mostly Blue-Greys, half of which calve in the autumn and half in spring. At any time there might be 100 calves of various ages. The cows are crossed with the two Simmental bulls. Three Ayrshire house cows are kept for supplying milk to the houses on Auchenbrack.
The main crop is silage. About 12 hectares is cut per annum and a slightly smaller area for hay. The silage is big-bale, but the hay is traditional small-bale. A few hectares are improved each year by sowing rape or typhon. Sheep are folded on this land and then grass is sown. Typhon is a new crop like miniature turnips, the tops of which is eaten by sheep and it grows again. A small patch of tatties is grown for farm consumption and some turnips mainly for feeding to animals.
Small shelter belts are still being planted by Dan Gaskell, the latest on Everside in 1995.
The farm has a shepherd, Bill Brown, at Princes Cottage, and a stockman/tractor man, George McMillan, at Kilnmark, who does everything. There are two tractors and an ATV.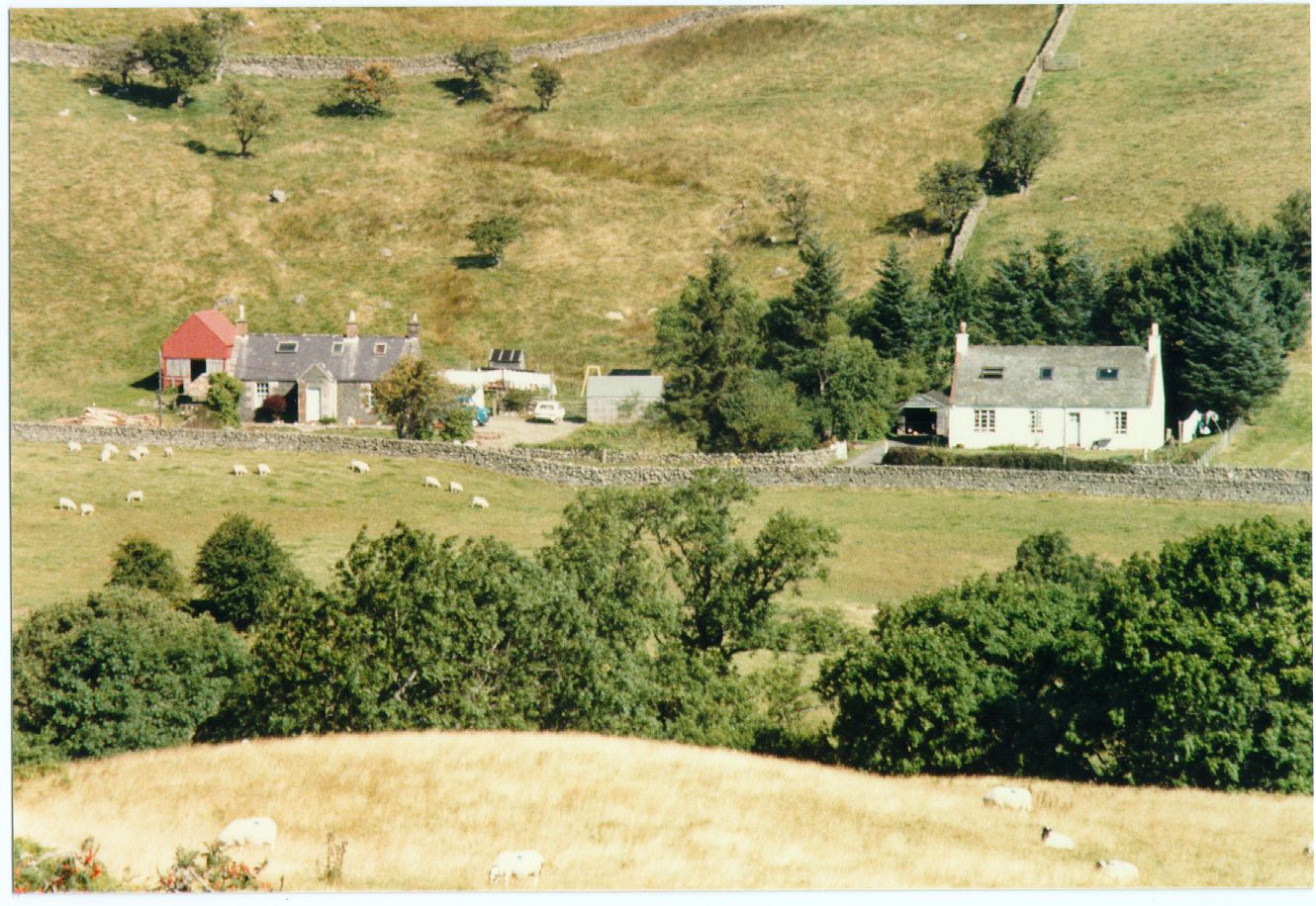 Princes Cottage left, probably on the site of Upper Craigencoon, and Thornie Park on Auchenbrack
Kilnmark
Kilnmark is usually spelt Kilmark on old documents. It used to be a rather small area, just a one merkland, being only 46 hectares on its own. Including, as it does now, Tynleoch and Marqueston it is 205 hectares, with 114 of hill and 91 of meadow and pasture.
Documents
I found no mention of it until 1590, when Kilmark is marked on Pont's map. In 1606 it occurs in the Queensberry Papers. In 1609 or 26 John Wilson of Croglin acquired the merkland of Kilmark from Sir Thomas Kirkpatrick of Closeburn. John passed it to his son James in 1660, then it went to James and William Wilson in 1690. Kilnmark, strangely, is not mentioned in the Hearth Tax. However, a kiln is indicated at Tynleoch and James Wilson held it as a tenant of Douglas of Stenhouse.
In 1720 it was sold to Alexander Ferguson of Craigdarroch and in 1724 it was bought by Peter McTurk of Stenhouse.
Parish Registers
Its first mention in the parish registers is in 1756. This entry is for the birth of William, born to Robert Dempster and Isobel McWhir. This couple were in Midshinnel both before and after Kilmark and had at least five other children.
Queensberry owned Kilmark again in 1770.
In 1825 there was this advert in the newspaper:
Kilmark with Strathmilligan, Tinlego and Marqueston to be sold by Stenhouse. Quantity of thriving young wood, plenty of game, land in highest order. All four steadings may be sold separately.
I presume Buccleuch bought it.
Large Families on the Censuses
The 1841 census saw John and Flora Corrie, their six children and two labourers in Killmark. Corries were simultaneously in Tinlego (Tynleoch).
In 1846 or 7 Samuel Wallace of Auchenbrack took over the tenancy of Kilmark, which now was definitely owned by Buccleuch.
In 1851 James and Jean Johnstone were in Killmark with six children.
In the censuses of 1861, 71 and 81 and until 1890 Thomas and Martha McLean were the occupiers. They had seven children and went to the Free Church of Glencairn.
1890-1902 Adam and Sarah Lees were in Kilmark with six children and four servants. They, typically, had moved on from Auchinleck to Cumnock, Penpont and finally Tynron.
Kilnmark had been the dairy farm for Auchenbrack since Wallace took over in 1846/7, but in 1912 it was sold to MacRae of Stenhouse for £6,900. Wallaces had gone and now Charles Dickie was tenant and the dairyman in Kilnmark was David Goudie. MacRae trustees sold Kilnmark to Gaskells in 1935 and Kilnmark reached its present situation of being part of Auchenbrack.
The McMillans in Kilnmark since the 1970s, but leaving in May 1996, have continued the tradition of large families.
Tynleoch
The first reference to Tanelagoch is in 1511 in the Queensberry Papers. Since the name means "shallow water", I would think that the hollow beside the present ruin was once filled with water, as it is once again now. Alternatively the name may refer to a shallow ford across the Shinnel to give access to the road. Nowadays Tynleoch is reached over Kilnmark bridge and all there is to see of it is the foundations. It is a lovely spot in summer, but rather bleak in winter as it faces away from the sun.
There are many and various spellings of the name, though I have heard it pronounced "Tinlake". Tonluoch is marked by Pont, for instance. Janelagoch was part of the Barony of Glencairn in 1611. In 1626 Susanna Wilson (of the Wilsons) married John Sitlingtoun and was liferented by him in Tynlagow. Tenleuth is in the Hearth Tax records of 1691 as occupied by James Wilsone as a tenant of Douglas of Stenhouse.
In 1744 it is first mentioned in the registers, when Barbra was born to Andrew Clark and Marrion Tait. In 1767 Tanlego was Queensberry's, but by 1770 was part of the Wilson's Croglin estate, when byres were being built.
A 1794 advertisement was for a sale by public roup at Tynron Kirk of a quantity of oak and ash from McQuestown … and Tanleoch, belonging to Mr Wilson of Croglin, including sixty large old oak trees, the best in Nithsdale. In 1796 Tynleoch was sold with the break-up of the Wilson lands.
In 1825 Tinlego still had a steading, as it was advertised for sale by Stenhouse. In 1830 there was the sale of land from the sequestrated estates of John Smith in Glencairn and Tynron, including the superiorities of Croglin, Tinlego and Land.
Tynleoch Abandoned
In 1841 Tynleoch was still inhabited by James and Jean Corrie and their daughter, but they may have been the last occupiers, as all signs point to the abandonment of Tynleoch in the 1840s:
there is no further mention in the census.
Tynleoch is not marked, nor is a house shown on the above Buccleuch map of 1854.
the potato blight disaster of 1845/6 could have been the last straw.
in 1846/7 Tynleoch probably became part of the Kilnmark set-up and a steading was no longer viable.
the 1850s OS map marks Tenlaight in ruins.
There are many entries in the registers up to 1838 and it is clear that two families lived in Tynleoch at times, a family in each room of a but and ben, along with uncertain numbers of children, grandparents and servants. It is also apparent that families often only stayed there for a year, before moving on to another rental, perhaps again only for the one year.
In the 1840s Tynleoch consisted of 95 hectares, of which 75 were hill pasture and only 17 arable, a difficult living. You can imagine the life these families led. What incentive was there to farm well, what chance to get out of the rut?
Buccleuch, presumably, had bought Tynleoch in 1825 and finally sold it to Stenhouse in 1912. In 1935 Gaskells acquired Tynleoch and its present status was reached. Now it is just the name of one of Auchenbrack's hirsels.
Above the head dyke run-rig can be seen on some of the fairly level land on the spurs, showing that, before the dykes, there was cultivation much higher up the hill than now. The field to the south-east of the house site was recently ploughed and much broken pottery was turned up.
Marqueston Park/McQueston
I expect that most people are unaware that there were two McQuestons in the glen, with many different though confusingly similar spellings. This McQueston is now part of Kilnmark, though it was once a separate holding. It is very small, 65 hectares, and it must have been difficult to make a living on it.
The first mention of Marqueston Park is in 1511, when it is mentioned in the Queensberry Papers. The Pont map of circa 1590 shows Margwasten above Kilmark. In 1611 Mirgwastune was part of the Barony of Glencairn. In 1691 in the Hearth Tax Murgristoun was held by Jo and William Irvings as part of the Stenhouse estate of the Douglases.
In 1737 Walter Wilson of Croglin inherited the half merkland of Makverstoun. This is undoubtedly Marqueston Park and not THE Macqueston. Then come the entries in the parish registers.
In the parish registers it is never clear to me which Maqueston is which. Somebody could untangle the two, given time, but I did not bother to try. If you go there now, you can still see the foundations and you can ponder on how any family could have survived.
The 1747 Roy map does not mark it, but does mark two Kilimarks. In 1770 Wilson, the Laird of Croglin, held Tanlego, Marchiston, Maqueston, Thirsty Mark, Margmalloch and Markreoch, value £565.
A newspaper advert of 1789 announced:
To let for 5 years from Whitsunday 1789 by Croglin Estate:
(the other) McQuerston, Birkhill and Thistlymark, 372 acres
presently held by Wm. Hewetson, AND lands of McQuerston Park,

136 acres presently possessed by Samuel Williamson, Auchenbrack,

AND lands of Tinlego, Tanleoch (both!), Appin, Croglin and Marcreoch, 2014 acres

possessed by James Hewetson and James McTurk.

By 1791 Queensberry had bought McQuerston Park and was letting it to Samuel Williamson of Auchenbrack for £31.
Marqueston Park is not marked on the Thomson map of 1821 and neither is there any mention in the 1841 census. It could have been empty at the time. However, it had been mentioned on the 1827 valuation and the 1854 Buccleuch map above does mark the house.
The next evidence is the 1851 census for
Upper Killmark:
b.Keir                            Ann Prentice            44       widow, farm servant

b.Kirkmahoe               Thomas Prentice     14       scholar

b.Tynron                     Sarah Prentice          7        scholar

b.Tynron                     Margaret Prentice     5        scholar

Widow Prentice was on Tynron's poor roll 1847/55, receiving 2 shillings a week (10p).

Then the 1861 census for
Marqueston
b.Tynron                       Robert Walters 47       ploughman

b.Kirkpatrick Durham   Ann Walters     46

b.Closeburn                 Jane                 23       domestic servant

b.Tynron                       Joseph             14       agri lab

b.Closeburn                 Robert                7        scholar

I assume these two references are to the house in question. There are no accounts of it in the later censuses, so it may be that Marqueston was not abandoned as a separate settlement until the 1860s. Having said that, it is not shown on the 1850s OS 6 inch map.
It is still mentioned later in land sales. For instance, in 1912 it was bought by Stenhouse as part of Kilmark and Strathmilligan. This included all the lands of Marquieston now called Marquieston Park. In 1935 it became part of Auchenbrack.
Craigencoon
Craigencoon first appears on paper in 1578, when it was held by John Douglas of Craiginkunne (Johnne Douglas curatouris of Craigincwne), nephew of Sir James Douglas of Drumlanrig. Craigencoon belonged to Queensberry until 1810 and presumably before that it was part of the Barony of Tibbers. The 1590 Pont map shows Kraginkum, but only one. There were once two Craigencoons!
In 1602 John Hunter held it. He died, leaving four sons, Robert, William, Andrew and Archibald. The Hunters of Craigencoon, Pinzarie and Glenlochar could be offshoots of the Penpont Auchenbainzie Hunters. In 1691 the Hearth Tax names two Craigencoons: Thomas Hunter, Craigincome and Jon Hunter in Neyr Craigincome. This is exciting, as it is the first indication that there were two Craigencoons.
This Thomas Hunter, sometime of Craigencoon, died age 84 in 1727. Jane Shitlington, his spouse, died in 1714 age 69. Shitlingtons held Stanehouse as early as 1484. Two magnificent tombstones of Craigencoon now stand by the door of Tynron Kirk.
The 1747 Roy map shows Upper and Nether Craiginscoon. From now on it is difficult to distinguish between these two, as the parish registers often just say Craigencoon, rather than Upper and Nether.
The first entry for Craigencoon in the parish registers is in 1746, when Thomas Hunter was in Nether Craigencoon, and then in 1751, when Andrew Hunter was in Upper Craigencoon. Hunters were still in Upper at least until 1812. There are many, many entries for Craigencoon.
Craigencoon in the Twentieth Century
In 1914 was the first naming of Craigencoon as such in valuation rolls. Up to then it was just one of the houses on Bennan. In 1914 it was inhabited by David Carruthers, ploughman. He went away to the war and Craigencoon lay empty for several years. After the war Hugh Broatch took Craigencoon as a smallholding for the resettlement of soldiers. Buccleuch Estates had been asked to make available suitable small plots of land. Hugh is always listed as a poultry farmer. He had just the two fields from Bennan, and stayed with his mother and father, Ina and William. Hugh was the postie for some years until his retirement in the fifties.
Hugh's daughter, Charlotte Stenhouse Broatch, was born in Craigencoon and Charlotte, later Scott, can claim to be one of the few folk to be born in the glen and to live and die here. Charlotte's funeral in 1995 brought out as many folk as Jim Gourlay's a few months earlier, great occasions both. Broatches were still at Craigencoon till 1974, when Hugh died aged 79.
The house was soon empty. In the early 1980s Craigencoon belonged to Forsyths of Bennan and was only used as a holiday home for an artist, as it had no facilities and was becoming a ruin. Economic Forestry bought it in 1986 and at last, 1990-5, it has been done up, quite tastefully too, retaining the fine old cow-byre with its stalls. Sadly, however, it often seems to be empty, though there are plenty of improvements going on even in late 1995.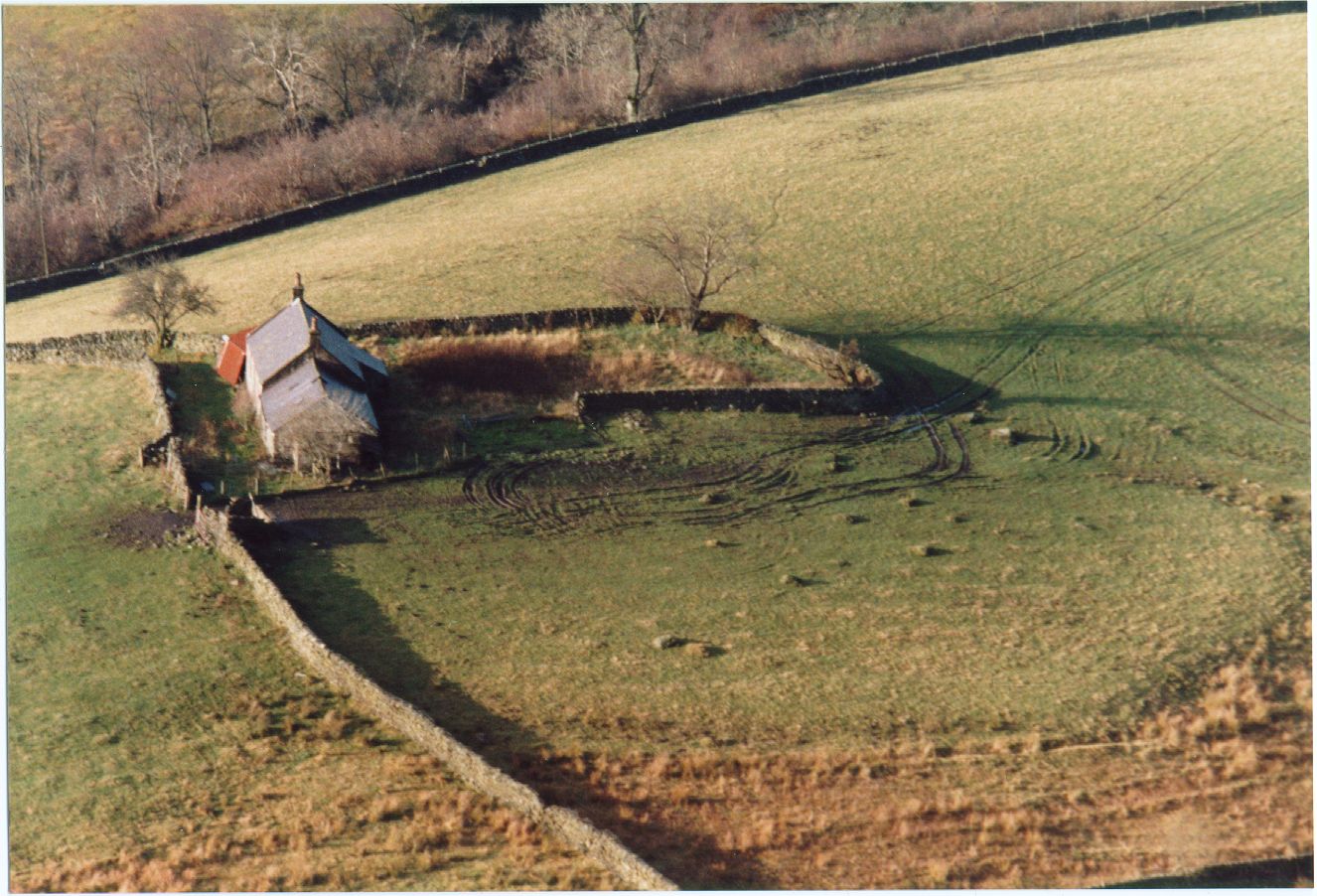 Craigencoon in 1986 before restoration. Some can imagine a stone circle in the boulders by the cottage
Upper Craigencoon
What happened to Upper Craigencoon, which no longer exists, and where it was, have long puzzled me. It disappeared from the parish registers about 1812. Only one Craigencoon is mentioned in the censuses of 1841-91 and this has got to be the present Craigencoon, ie Nether Craigencoon.
Look at the map of Auchenbrack below. See how the present farm of Auchenbrack consists of six previous holdings, now amalgamated:- the small areas of Marqueston Park, Kilnmark and Tanleoch on the south-west side of the Shinnel and the rather larger holdings of Midshinnel (well, half of it), Auchenbrack and Upper Craigencoon on the north-east side. The 1772 Queensberry estates map shows that these were all separate then still.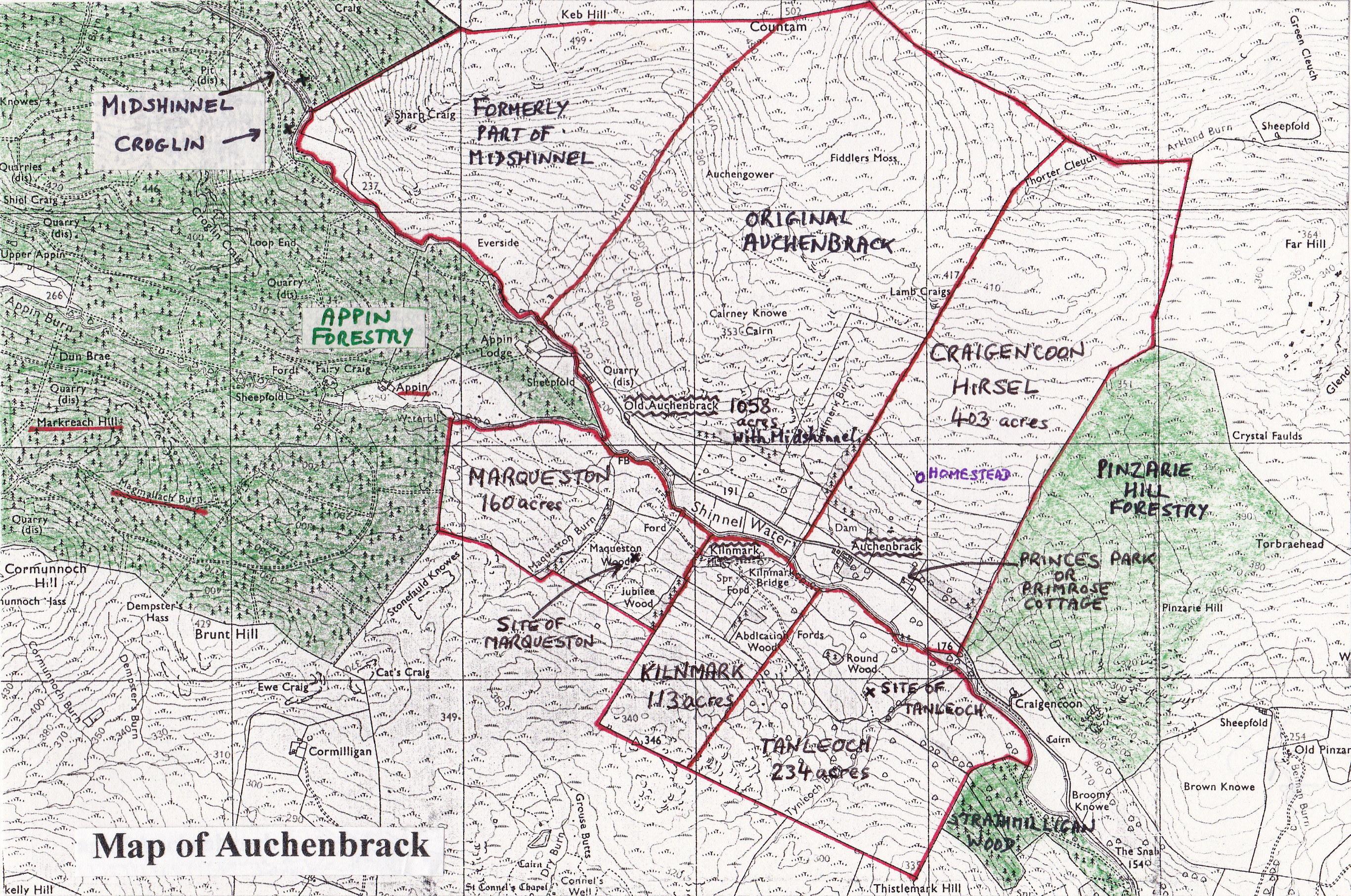 The Improvements brought a change to larger land holdings. First Midshinnel was split between Shinnelhead and Auchenbrack and the steading abandoned. This happened before 1820. Auchenbrack and Upper Craigencoon were obviously run together and when it came to the building of the new steading, it was decided that it would be built at Upper Craigencoon. There is more room for a new steading at the present Auchenbrack. Upper Craigencoon was then renamed Auchenbrack and the old Auchenbrack became Old or High Auchenbrack. With the three farms to the south-west included, the new Auchenbrack farm and steading was better placed and the Williamsons and Wallaces had new efficient farms. (I have reconsidered this and with reference to the old maps. I have deduced that Princes Cottage stands on the site of Upper Craigencoon and the present Auchenbrack was built as a completely new steading in the 1830s).
Thus the Auchenbrack on all the old maps and documents was Old or High Auchenbrack.
Look where Auchenbrack is marked on the Thomson and Johnston maps. Both the Thomson map 1821 and Johnston map circa 1850 still mark Upper and Nether Craigencoon. Thomson was correct, but Johnston had it wrong, showing that his map must have been based on previous maps without checking. Upper Craigencoon is clearly on the land of the present Auchenbrack. The easterly hirsel of Auchenbrack is still called Craigencoon.
The 1854 estate map above shows that Upper Craigencoon had been well and truly incorporated into Auchenbrack.
The 1876-7 Valuation Roll gives one holding of Buccleuch as Auchenbrack, Upper Craigencoon, Midshinnel, Marqueston, Kilmark and Tenleago. Nether Craigencoon, Pinzarie and Bennan were listed together as a different holding of Buccleuch.
Midshinnel
Further up the glen is the site of the house at Midshinnel, which is on the north-east bank of the Shinnel 50 metres downstream from the bridge at 743986. Midshinnel as a land holding died shortly after 1808, when one half of Midshinnel went into Shinnelhead and the other half became the north-west hirsel of Auchenbrack, The Craig. The Forestry Commission avoided planting over the last remains of the building.
Magmalloch and Markreach
These lands lie opposite Appin on the south-west side of Appin Burn, ie above Kilnmark and Marqueston Park. There is still a Markreach Hill and Magmalloch Burn, but these are now under forestry. They are land holdings mentioned on old documents and they are marked as the settlements of Markraigoch and Margnaroch on Pont's map of 1590. At one time they held houses too, as the 1691 Hearth Tax shows: Margmelock, James McCall and Mercroch, James Wilsone. They are in the most remote and god-forsaken part of Tynron Glen. The Gaelic names are most appropriate!
Magmalloch is mentioned in Queensberry Papers in 1511 and Markreach in 1611. By 1770 Magmalloch and Markreoch belonged to Wilsons of Croglin, who was building byres at Margmalloch in 1781. In 1796 the two holdings were sold with the break-up of the Wilson Estate. Was this the end for both, as the 1821 Thomson map marks neither (nor Appin!)?
Someone was still at Magmalloch in 1765, but any houses up there were abandoned soon afterwards. Where folk lived exactly may be difficult to find now that forestry has buried any evidence. Magmalloch was probably on Magmalloch Burn, almost opposite Appin at 743970. I wonder if Markreach was renamed Upper Appin, as there does not appear to have been another settlement further up Appin Glen.
Finally the 1820 Buccleuch map below shows several of the points mentioned above. Croglin and Midshinnel houses still existed. Half of Midshinnel was taken into Auchenbrack. The main glen road terminated at Old Auchenbrack. Upper Craigencoon had yet to be included in Auchenbrack, but is marked very faintly on the present site of Prices Cottage. The Auchenbrack steading was not yet built. Kilnmark and the other holdings to the south of the Shinnel were not yet part of Buccleuch's empire.