A lot has happened since I wrote "Tynron Glen". If I were writing it now, there would be many changes and lots more photos. I am posting some things that I would have included.
First of all, though, is Marian Rochester's extremely kind review in TDGNHAS 1996 Volume LXXI. Just note that I taught French and Latin at Crawfordton and not geography, though geography, especially landscape, is a great love of mine.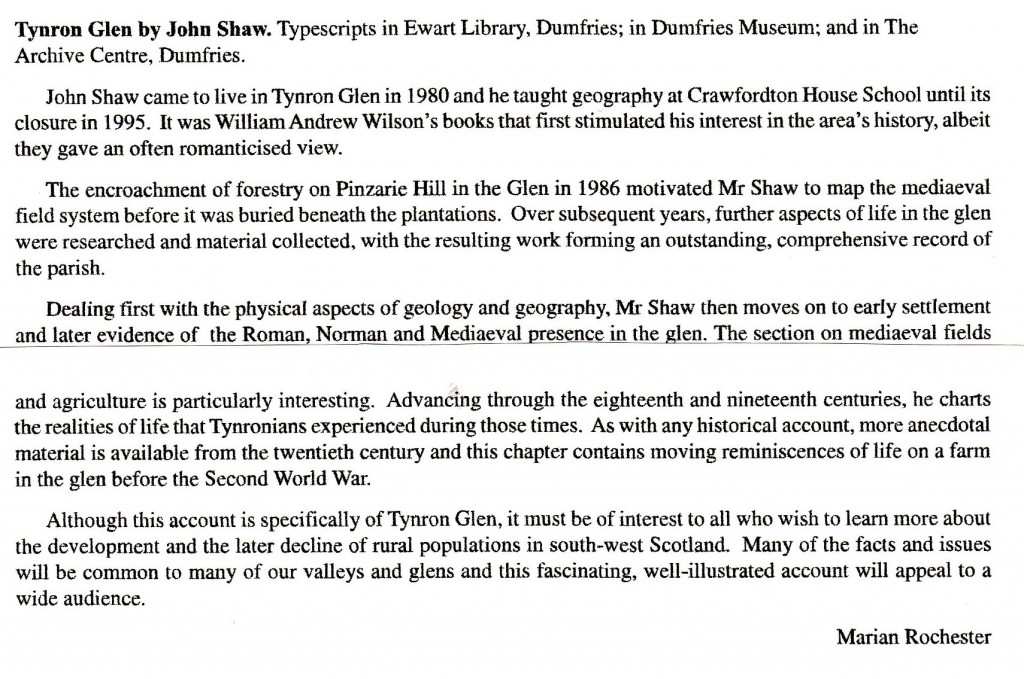 Visit Dunkeld has a very readable article on " a widow woman at Tynron Kirk who brewed ale in a very small way", ale meaning whisky, and her encounters with the exciseman, R Burns. " A widow woman at Tynron Kirk brewed ale in a very small way, chiefly for the people who came to church on Sundays, and to escape licence she left the reckoning to the consciences of her guests. Hearing of a new exciseman, she became alarmed, and came in great fear to her neighbour, a Mr. Williamson, a merchant, to ask his advice. (James) Williamson, a remarkable gentleman in his way, who by activity and probity had made a great business in an out-of-the-way village, told the old woman to be in no fear—Mr. Burns would be gentle with her.
Next week Burns came to attend to business at Mr Williamson's, and when that was finished the honest merchant took him up the way to see the old widow, telling him the whole case as they went. They had a bottle of the widow's ale and sat a little while, after which they rose to come away. Williamson, having dropped the small sum due for the ale into her hand, said, "Now, mistress, this is Mr. Burns," at which she had nearly fainted from terror. Burns, seeing the plight she was in took her by the hand and said cheerily to her, "Keep up your heart, my good woman—sin on, and I'll protect you," and left her the happiest woman in Nithsdale."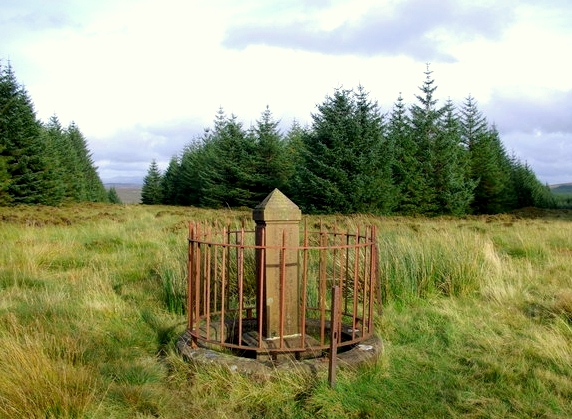 Allan's Cairn, photo by Dr Mark Jardine. Mark Jardine has written a very informative article about "The Martyrs of Covenanting Tradition", which adds a great deal to what I wrote in Tynron Glen. He writes about George Allan and Margaret Gracie killed at Allan's Cairn in 1685. He is not sure if all the stories are true, but he writes in incredible detail about Margaret Gracie of Lamgarroch, who fed and helped Covenanters hiding up the top of the glen, including George (or John) Allan, who is said to be buried with her at Allan's Cairn after being shot by dragoons.
Stenhouse Wood is featured on the Scottish Wildlife Trust website.
Tynron Juniper Wood is on the Joint Nature Conservation Committee website. Richard Mearns writes in TDGNHAS about Juniper in Dumfries and Galloway, "Juniperus communis in Dumfries and Galloway" 2001 LXXV, stating that there are over 300 bushes. He has also been influential in the Dumfries and Galloway Local Species Action Plan at www.dumgal.gov.uk to maintain and enhance the current population of juniper.
The geology of Tynron Glen is described brilliantly with photos in her article "Time-Travel the Shinnel Glen with Diana Turner". Diana adds so much more interesting detail to the section on Geology in "Tynron Glen".
It is interesting to note the proliferation of holiday cottages in Tynron Glen. Lann Hall has a cottage which sleeps ten. The old school house at Glendow is now a wonderful holiday home, so is Craigencoon. Auchenbrack Estate is a large luxury holiday let from £5,000 per week in 2017 and also a wedding venue.
On the moniaive website by A B Hall, there is more detail about Donald MacRae and his sheep breeding at Stenhouse. This website also has more stuff about Tynron and the village hall and the minutes of the very active Tynron Community Council, which is particularly worried about the state of the glen road, which has been ruined by timber lorries. The Dumfries and Galloway Standard reports on the lack of luck on road improvements in the Glen on April 13th, 2011. The fascinating and informative "Tynron 2007, a survey of life in a rural community in the early twenty-first century" is also on the Moniaive website.
"The Amuliganes of Glenshinnel" is an incredibly detailed account of the history of the family and the Barony of Tibbers with their strong Tynron connections, adding a lot to what is described in "Tynron Glen". At Ancestry.com look for Scottish Records/TibberCharters.
Tynron Parish Records are now easily available at Ancestry.com.
There are some lovely photos of Tynron on flickrhivemind.net.